The Jordan Inbound Tour Operators Association (JITOA) under its tourism environmental initiative "Don't mess with Nature" organized an environmental activity in Jerash Archeological Site "Together let's protect Jerash" on Saturday 23rd April 2011 celebrating the Earth Day under Jerash Adoption program to install recycling trash bins all around the site.
This activity is conducted as part of Jerash Adoption Program 2010-2011, which includes an assembly to install 45 environmental eco-friendly recycling trash bins with a customized design made of polished wooden panels to fit the beauty of the site. The trash bins are made for sorting waste from paper and plastic for recycling use. JITOA also cooperated with the Modern National Forms Company to contribute in the production of special trash bin covers printed with the campaign slogan, in addition to an outstanding design provided by SADDA marketing and business solutions company.
A group of volunteers from the Arab Bank staff, one of the official sponsors of the program, in addition to students of Madrasati Initiative in Jerash along with "Do not mess with nature" network of volunteers. All volunteers gathered at the site for the installation of the trash bins in the specified areas that have been identified in coordination with the Directorate of Tourism of Jerash. The bins are distributed evenly to cover the location starting from the main site entrance leading to the south gate.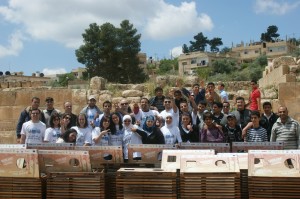 This campaign aims to raise environmental awareness on the importance of recycling in the city of Jerash, in addition to creating team work spirit among community members and the private sector to demonstrate real solutions for environmental problems, and advocating for increased attention of protecting the kingdom's treasures. These activities focus on enhancing the overall view of Jerash natural and cultural recourses of the site and eliminate visual pollution.
This program aims to promote Jerash Archeological site as the first eco-friendly tourist site in Jordan after the implementation of a series of environmental activities that has been undertaken in "Jerash Adoption Program" which includes cleanup campaigns, raising environmental awareness at the site , environmental film screening , as well as enhancing the site overall view and developing sustainable environmental practices.
JITOA aims to call for raising environmental awareness and enhance Jordanians mind-set on the issues concerning waste management and adopting recycling practices at its best. Moreover, this initiative aims at setting strategic plans for environmental sustainability, and helping local communities produce eco-friendly products and handicrafts made from recycled material and sell them to tourists.
It's worth mentioning that this program is supported by Ministry of tourism and Antiquities, Ministry of Environment, Jerash Governorate, Jerash Municipality, Jerash Tourism Directorate, and Jerash Antiquities Department, Jerash Visitor Center, and Entity Green for recycling. The main sponsors includes; Gold Sponsors Sanyo Gulf, Arab Bank, and Silver Sponsors, Petra Moon Tourism Services, United Travel Agency(UTA), Bronze Sponsor Amani Tours in addition to other contributors including Sama Natural Mineral Water, Sukhtian Group (Higeen), Jerash Star Tourism Investment Company , The Green-Echo initiative of MASAR organization. The official transportation sponsor is JETT Jordan Express Tourist Transportation co. and the Media Partners are; Al Ghad Newspaper, Amen FM, and W2GO.
Contributing members are responsible for the accuracy of content contributed to the Member News section of AdventureTravelNews.