Assistant Editor's Note: The following is a blog post from Masaru Takayama, Executive Director of Japan Ecolodge Association, who has been keeping a blog in English on the recovery and rescue mission in Japan. For this post and other entries / photos please visit the Japan Ecolodge blog.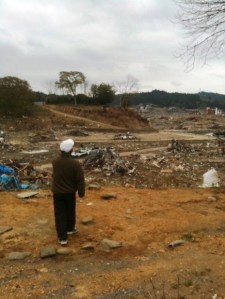 Today, like yesterday, we went to help our new neighbor community who moved from Minamisanriku town for the cleanup in preparation for the pre-fabricated houses.
I have been talking with the leader there, and a phrase he has used still remains inside me. It is what he calls, 'shameful'.
'It's shameful that we have to show these.'
'It's shameful that you come to help us.'
There is nothing shameful about this, I think.
'This has not happened due to your cause, we are happy that we could be of your help', this was my usual reply when we started to work trying to ease what they are going through.
After working for days with them, I start to understand what he really means by saying 'shameful'.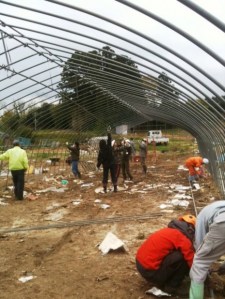 The land that they are on belong to them, and if there were any guests visiting their land, they would have prepared something special to greet them which cannot be achieved at the current state.
They would have shown us the beautiful town of theirs. The visitors could have enjoyed sightseeing. These sentiments are unspoken but felt deeply being with them. I can understand how they think, I would have thought the same if we were the disaster victims.
Since I have been here, my sentiment toward the victims has changed completely, there were no victims until the DAY, March 11. They had no choice but to become the victims since then.
What we can do here as a volunteer is to treat them, not as a victim but as a person, calling them by …san.
I was thinking about this as I were helping to remove the damaged green house.
OUR PROMISES
you will get updates on our association and partners' efforts – track where your donation money goes
your contribution of every last yen will be used on relief efforts – entirely used to purchase goods or offer services
count on environmental friendliness – buy local, buy green products, help revitalize the local economy
PAYMENT INSTRUCTIONS for Tohoku earthquake & Tsunami Disaster Relief Fund
Choose from two payment methods
International transaction to Bank of Kyoto
Paypal
Please see the payment instruction (pdf) on our website;
http://www.japan-ecolodge.org/english/pdfs/payment%20instruction.pdf
WE APPRECIATE FOR YOUR CONTINUED SUPPORT!
Contributing members are responsible for the accuracy of content contributed to the Member News section of AdventureTravelNews.