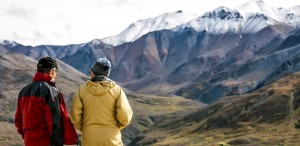 Denali Education Center connects people to Denali through fun, informative, and inspiring programs that build lifelong friendships, lasting memories, and a connection to nature.
A for-purpose educational partner of Denali National Park since 1989, we serve visitors and residents with multi-day programs on our campus, day programs, field trips, and special events.
During our hands-on explorations in Denali, participants develop meaningful connections to the natural world by exploring, discovering and investigating a pristine wilderness classroom.
Our offerings include:
ON-CAMPUS LEARNING VACATIONS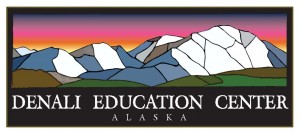 DEC has a ten-acre campus just across the Nenana River from Denali National Park, has 12 guest cabins, a dining hall, a large meeting hall, and a solar water heating system. DEC's on-campus learning vacations offer adventures in lifelong learning for adventure groups, school groups, conservation organizations, alumni travel groups and affinity groups.  These programs bring people from far and wide to Denali for a full week of exploring and learning about Denali's wildlife and natural history while exploring the balance between preservation and use in this unique subarctic wilderness.
DAY PROGRAMS
INTRODUCTORY TALKS: A one-hour program that provides a foundation for understanding Denali. Introductory talks give an overview of the ecology of the subarctic as well as the human and geologic history of Denali. These programs are perfect for groups with limited time in Denali, allowing participants to get the most out of their trip in the park.
ADVANCED TALKS: Programs of up to 3 hours offer an in-depth perspective on plants, animals, and climate of the subarctic, as well as the geology and human history of Denali.
DENALI COMMUNITY SERIES: A forum for cultural and natural history, current research, community interest, classes, art, and music. Events are hosted in the Charles Sheldon Center and are mostly free of charge.
YOUTH PROGRAMS
DEC offers a variety of fun, educational programs for youth. Programs range from day camps to multi-day trips and are offered to youth of all ages and abilities. Programs encourage participants to develop connections to Denali by providing opportunities to explore and discover the outdoors along with their peers.
TUNDRA TOTS: Toddler/preschool program that includes a story, a nature activity, and a craft. Kids laugh, learn, and explore all the wonders of Denali. This one-hour program happens weekly throughout the summer for 2-5 year-olds.
DENALI DISCOVERY CAMP: Local youth participates in learning adventures by hiking, camping and exploring Denali. This week-long day camp is open to 1st – 8th grade-students.
DENALI BACKCOUNTRY ADVENTURES (DBA): DBA is a week-long, summer backpacking trip for high school students. DBA participants learn about the physical and mental preparations required for backcountry expeditions. The program offers opportunities to develop knowledge and skills that increase understanding of Denali.
W.I.L.D. ABOUT DENALI (W.I.L.D.): A program for underserved Alaskans that teaches participants respect, self-confidence, and teamwork during a three-day, two-night wilderness camping experience in Denali National Park.
Our programs are designed and led by people with a passion for Denali. We live here and we love it. Let us show you why.