The life-saving technology of inReach was used in a rescue almost every day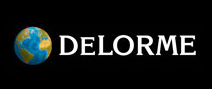 Yarmouth, ME – More people relied on their DeLorme inReach satellite communicator in an emergency this past summer than ever before. During the peak recreation and adventure travel season of May through August, an average of five inReach rescues per week occurred. These emergencies, which happened in remote locations outside of cell phone range, all received assistance more efficiently and effectively because of the use of an inReach device.
Chip Sandstedt, an inReach subscriber, used his inReach to trigger an SOS in August when his daughter had a sudden diabetic emergency, deep in the backcountry of Rocky Mountain National Park without any cell signal. Sandstedt soon realized that his daughter's condition was deteriorating so rapidly that immediate help was critically needed. Using his inReach to trigger an SOS and communicate back and forth with GEOS, DeLorme's 24/7 global monitoring service partner, Sandstedt was able to communicate the severity of the situation, coordinate an immediate rescue, and exchange ongoing critical information with the dispatcher.
"Our Delorme inReach was our only hope for my daughter's survival. I have used inReach for several years, typically to check in each day and let my wife know where we are and how things are going. I never imagined it would be the essential tool that would save my daughter's life," Sandstedt said. "Through the efforts of GEOS, the Flight for Life crew, and some remarkable treatment at St. Anthony's Hospital in Denver, my daughter Amanda not only survived, but made a full recovery within a few days. I recommend inReach to all my friends and especially to those who venture into the wilderness."
inReach's two-way communication and tracking capabilities, coupled with the ability to describe an SOS situation and exchange updates with responders, makes it a must-have for anyone who spends time in the outdoors beyond cell phone range. inReach communicates over the Iridium satellite network, providing truly global two-way satellite connections, high network reliability and low-latency data links (less than 60-second delivery of messages end-to-end) anywhere on Earth, with no gaps, fringe or weak signal areas.
Another inReach rescue occurred over the Labor Day weekend in a remote area about 90 miles north of Tok, Alaska. inReach customer Jacob Decker and three of his friends were out hunting when a group member had an accident with his ATV, causing multiple injuries to his arm, face, back and neck. With daylight rapidly fading and temperatures dropping, Decker used his inReach to trigger an SOS and describe his friend's condition with GEOS via texting.
"I had just bought the inReach the day before because my wife was worried about where we were going and the lack of cell phone coverage in the event of an emergency," Decker said. "When my friend got injured, it was early evening and we were on top of a mountain. We knew we couldn't get him all the way out because he was complaining of back pain. While we waited for the rescue it began to snow, so we set up camp to keep him warm. Having the inReach allowed us to not only stay in touch with search and rescue, but it also kept them updated on our location while we waited."
In many rescues, inReach is the only method of communication, enabling search and rescue officials to reach the people involved much more efficiently and effectively since detailed information about the nature and location of the rescue can be confirmed. According to the National Park service, 26% of all wilderness rescues involved someone having to leave the scene of the emergency to get help in person because of lack of cell phone availability or coverage, adding countless hours to the rescue process. Unlike many other safety communication devices on the market, the rugged and waterproof inReach provides the ability to exchange full-size, 160-character text messages, back and forth with loved ones at home and with the search and rescue monitoring staff.
The latest inReach product — inReach Explorer – also helps reduce the number of people getting lost in the wilderness by integrating route planning, waypoint creation, and basic navigation, along with the ability to both send and receive text messages, 100% global coverage, GPS tracking and SOS alerting. The inReach Explorer recently received the prestigious Guide's Choice Award from the American Alpine Institute (AAI), known as the top training ground for mountaineers, guides, and mountain leaders.
Contributing members are responsible for the accuracy of content contributed to the Member News section of AdventureTravelNews.