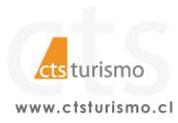 Founded in 1978, CTS Turismo / Chilean Travel Services, has a recognized and solid history in the inbound tourism area, being at present, one of the most important companies in Chile, with an earned prestige at international and national level.
Always faithful to our philosophy of providing the best service to our clients, we have become a highly qualified organization counting on a high level human team.
Within our business area are the design and operation of programs for classic and adventure tourism both for individuals and groups. Transportation, transfers, excursions, hotel bookings, car rentals, air tickets and cruises are part of our services in each destination, whose programs are the product of a high quality research and creative work in order to offer the best of our country to those who visit us.
Our Incentive Travel Department, formed by qualified professionals with exclusive dedication to this business as well as Trade shows, congresses and special interests, lead the trend in our country. Our team of professional guides and a modern transport fleet assure a customized quality service. Technology allows us to be online with our branch offices in Puerto Varas and San Pedro de Atatcama with our network of exclusive agents throughout Chile.
With all this, CTS / Chilean Travel Services, more than a company, is an organization focussed on materializing its philosophy: Opening new Grounds, Creating Destinations.
Click here to connect with CTS Turismo / Chilean Travel Services on ATTA's member community, The HUB.