Inspired by adventure travel, powered by EverGreen Escapes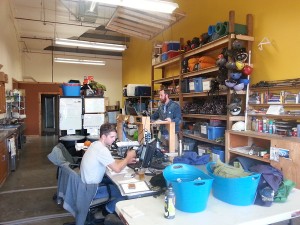 Seattle, WA – Opening soon for lifelong and first time travellers based in Seattle, Washington is a place to personally connect with other passionate wanderers, swap stories and dreams of future adventures and even begin planning the next big trip, aptly called The Adventure Hub.
Envisioned by Jake Haupert, owner of Seattle-based EverGreen Escapes, The Adventure Hub is an actual physical location outfitted with comfortable chairs, lots of hard copy and online reading material to research a traveler's next destination, and a space where guests can enjoy a glass of Washington wine. While technology will be available, the focus is on high touch versus high tech.
Haupert compares it to your local coffee shop, where friends and families gather to share experiences from their neighborhood. Instead of discussing how little league season is progressing, at The Adventure Hub people will talk about mountains conquered, rivers rafted, trails explored, life-changing close encounters with wildlife and best outdoor food markets for exotic meals.  The plan is to have The Adventure Hub open weekdays from 11 a.m. to 8 p.m., as well as for special events during evenings and on weekends.  EverGreen Escapes will give evening interactive presentations on emerging destinations in places like South America, Asia and South Africa, host adventure bingo nights, and serve an outstanding glass of wine, while people enjoy the camaraderie of fellow travelers.
"Travel is about people and the transformative experiences you have connecting with other cultures in other worlds and maybe even just getting to know your own world a little better," says Haupert, who began his career working with a number of reputable travel companies before starting an inbound tour business to bring people to the Pacific Northwest. "There is only so much you can experience through your research online.  At some point you want to talk to other people. The goal of the hub is be a gathering place to share and inspire each other to keep on exploring and I am excited to invite fellow adventurers for a glass of wine and to come share tall tales and their ideas on the next big unexplored destination."
Haupert found the perfect space for The Adventure Hub in a converted car mechanic's shop on 4th Avenue in South Seattle (the SoDo neighborhood), which now also houses EverGreen Escapes offices and shares space with KAF Adventures, a company that specializes in training adventurers in hiking, mountain climbing, avalanche training and many other adventure pursuits. It is scheduled to begin hosting open houses and events in October, and in the New Year local Washington winery Elsom Cellars will also begin producing and serving its wine on site. Winemaker Jody Elsom's passion for wine blends well with her experience in travel; she began her career in the Napa Valley and further explored winemaking through numerous experiences in vineyards and wineries throughout Italy and France.
"All of our trips, whether in the Pacific Northwest or international excursions, focus on food as an incredibly important part of the travel experience. So it made sense to include a partner like Elsom Cellars in our travel community space," says Haupert. "Think of it like the first class lounge in every airport, where you have all these people who are traveling, but there no one is really talking or sharing. My goal is to make The Adventure Hub the pre-departure lounge, the first place you come to begin planning your next adventure trip within a community of fellow travelers."
Coinciding with the launch of the new Adventure Hub, EverGreen Escapes has announced three signature international trips in 2015, exploring Australia, Namibia, and Zimbabwe, each with between six and 12 guests and led by one of their own Escape Artists. And continually enhancing their experiences in Cascadia, EverGreen Escapes will be leading small groups through their new Washington's Wild Five tour of the state's five National Parks and Monuments.
These trips and more will be explored during the EverGreen Escapes "Escape your Everyday" presentation series, now held in the Adventure Hub and Haupert and will provide the Adventure Hub to other groups within the tourism industry who need a larger place for presentations and discussions. The Adventure Hub will also serve as a meeting location for the Seattle-based Adventure Travel Trade Association (ATTA), who will partner with EverGreen Escapes to offer travel seminars and industry updates on travel policies and tips, and important trends like the growth of sustainable tourism.
Following in the steps of Seattle, Haupert plans on opening more Adventure Hubs in cities like Portland, San Francisco and Vancouver, BC.
Contributing members are responsible for the accuracy of content contributed to the Member News section of AdventureTravelNews.