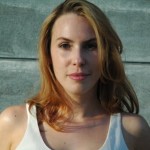 Continuing its efforts to promote an adventure tourism industry that puts sustainable development and conservation at the forefront, the ATTA was proud to have two of the world's great conservation leaders address the 2012 delegation on adventure travel issues.
An Interview with Alexandra Cousteau about tourism and creating engagement with global environmental issues.
Alexandra Cousteau, Co-founder of Blue Legacy and granddaughter of Yves-Jacques Cousteau, addressed the topic of using tourism to create engagement with global environmental issues through first-hand exploration and education. While detailing the world's looming water crisis, and encouraging delegates to consider local water issues from a " watershed first perspective" she admitted that she had little initial interest in involvement with tourism.  Eventually, the continued public interest in joining her organization's conservation missions brought her to the conclusion that a balance must be struck between conservation and sustainable nature travel. Her case for blending the two came down to witnessing the truth and power in her grandfather's oft-quoted adage, "People save what they love and love what they know." Alexandra's compelling urge to educate and inform travelers towards conservation values reverberated with the Summit's principal theme of storytelling and its power to effect actionable results.
Jim Leape Implores All to "Save the Wow Factor" at the Adventure Travel Trade Association's 2012 World Summit
Jim Leape, Director General of the WWF International, spoke to the natural synergies between the need for  the adventure travel industry to protect and promote authentic places and cultures and the work of WWF.  Imploring, "Help us save the wow factor," Leape discussed the necessity in moving beyond token sustainable practices in a world where we will need to produce more food in the next 40 years than we have in the last 8000 in order to meet global population needs. Emphasizing the need for the adventure tourism industry to scale its efforts in sustainability and fair practices to a larger level, he urged individuals to form a collective power with competitors and allies alike toward broader sustainable efforts – both in promotion as well as funding. Additionally, he also urged us all to take responsibility in guiding adventure travelers towards active roles in conservation, and called upon us to leverage consumer interest in these destinations towards their protection.
Search Twitter for live feedback from delegates with the session hashtags: #ATWS-Coust and #ATWS-Leape, as well as #2012ATWS