The Blurring Lines between Fashion/Function – Why the Outdoor Industry Remains at Forefront of Innovation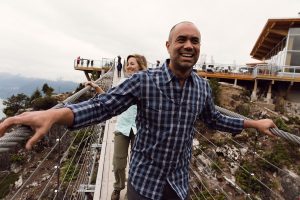 Seattle, WA – Urban travel is the fastest growing segment of the global leisure travel market. City trips soared by 82% between 2007 and 2014 to reach a 22% share of all holidays (IBT World Travel Trends Report). As travelers visit both urban destinations, they are faced with exploration that may be physically challenging, include a range in temperatures, and prolonged sun exposure. In response, the outdoor industry has blurred the lines between fashion and function to provide modern styling and functional innovation to empower travelers to experience all a location has to offer.
One of the most important challenges facing today's traveler is the health risk associated with exposure to sun and heat. The American Cancer Society states that rates of melanoma, otherwise known as skin cancer, have been rising for the past 30 years and that close to 90,000 cases of melanoma will be diagnosed this year. The same rising trend is occurring with global temperature. The global average temperature in 2016 was the highest it's ever been in over 100 years with 2016 being the highest yet (National Centers for Environmental Information). As participation in adventure travel steadily grows and warm-weather destinations remain as popular as ever, adventure travelers need apparel that provides protection from the sun and heat so they can stay safe and maximize their experiences.
"Travelers are keenly aware of the health risks that come from exposure to sun and heat. They are looking for products that protect them and allow them to stay outside longer and maximize their adventures," said Julie Snow, VP of design and product development for ExOfficio. "They are also packing light and need apparel solutions that not only provide protection, but keep them looking good and feeling fresh for the duration of their trip."
In addition to the challenges created by increased temperatures and sun exposure, travelers are looking for protection from insects that can carry dangerous diseases such as Zika, Lyme and malaria. The recent outbreak of the Zika virus has highlighted the importance of this type of protection and helped to educate travelers on the various protective options available.
For travelers, an ideal choice for protective clothing is ExOfficio's BugsAway collection with Insect Shield®. ExOfficio, a leading brand of travel apparel designed to provide comfortable performance solutions for travelers, was the first consumer apparel brand in the U.S. to utilize Insect Shield technology in 2004.
In spring 2017, ExOfficio has reached the pinnacle of technical fashion innovation by pioneering trend-forward aesthetic designs and combined it with both and BugsAway with Insect Shield® and Sol Cool™ technology giving travelers more options and elevated protection. BugsAway styles incorporate Insect Shield® technology, an invisible and odorless permethrin treatment that provides a convenient and effective layer of all-day protection from annoying insects and the potential exposure to insect bites while Sol Cool™ cooling technologies reduce skin temperature, increase comfort, and neutralize odor to prolong the time travelers can remain on the move in hot climates.
Contributing members are responsible for the accuracy of content contributed to the Member News section of AdventureTravelNews.