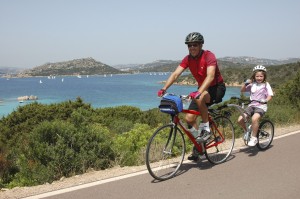 Author Chris Santella just unveiled the ninth installment of his bestselling Fifty Places series, this time exploring the world on bikes with Fifty Places to Bike Before You Die. Biking has grown increasingly popular in recent years as both a leisure and extreme exercise activity, and Santella covers trips for cyclists of every skill level. Lauren Hefferon, CEO of the award-winning bike travel company Ciclismo Classico, is prominently featured in the book as an expert on Sardinia, one of the 50 locations profiled. Hefferon spent several years living in Italy and biking all across Europe before founding Ciclismo Classico in 1988. Below is an excerpt from Hefferon's Sardinia interview in 50 Places to Bike Before You Die:
"Sardinia is to Italians as Hawaii is to Americans – an island Shangri-La.  I love islands, the idea that you can cycle around or across and get a sense of completion.  When I visited in 1992, I was blown away at how gorgeous it was.  The roads were fabulous, and the contrast between the coast and the interior was tremendous.  At that time, Americans knew little of Sardinia. I felt like people would embrace it, both for fitness riding and for the chance to combine swimming and biking and the opportunity to immerse yourself in an authentic, exotic culture."
Ciclismo Classico offers several tours to Sardinia, including Swept Away in Sardinia and Fun in the Sardinian Sun. One of Hefferon's favorite rides climbs from near the center of Sardinia, over Genna Silana pass, and then back down to the sea on the island's east coast.  Fun in the Sardinian Sun was named one of the "10 Best Family Vacation Adventures" by FamilyVacationCritic.com, and another one of their tours was named one of National Geographic Traveler's "Tours of a Lifetime" in 2008.
Fifty Places to Bike covers environments as varied as the Dalmatian Coast in Croatia, the Indochina Trail in Vietnam, and the urban jungle of New York City. With a healthy mix of international and national locations, the 50 chapters capture the breathtaking vistas cyclists will enjoy around the world. As always, the places are brought to life with more than 40 stunning color photographs.
Contributing members are responsible for the accuracy of content contributed to the Member News section of AdventureTravelNews.