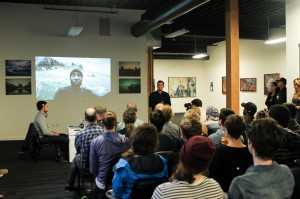 Chris Burkard was deep into traditional surf photography when he realized he wanted more. Burkard goes by the titles storyteller, photographer, instagrammer, and intrepid explorer. During his TED-inspired talk at The Clymb headquarters in Portland, Oregon, on March 27, he talked about his transition from documenting surfers riding clear blue waves to surfers choosing the rugged, stunningly beautiful cold regions of the world. Over one hundred passionate travelers, travel professionals and aspiring photographers came to listen to Burkard.
From the Aleutians of Alaska to the coastline of Norway to the Faroe Islands and icy waters of Iceland, Burkard has battled the extremes to capture the beauty of the ocean in harsh and wild places around the globe. Burkard's stories included a moment in Norway when, during a snowstorm, he was so focused on capturing a surfer that he pushed his own body too far, putting his life at risk. He was rescued by surfers and his crew who said Burkard still had a smile on his face. It was an eye opening moment for him as he realized the risk of his work.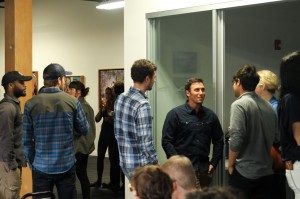 Burkard took questions from the audience, giving him the opportunity to give the following advice:
Share real moments on social media: every photo should have a story behind it
Use smaller cameras: the bigger the camera, the more distance you are putting between yourself and your subject
Stop: At some point you have to stop even if the photographic moments continue to feel good
Some of the most fulfilling work isn't the best paid work
This was the first joint trade and consumer event for the ATTA using the AdventureConnect format in conjunction with ATTA Member The Clymb.
Join the 650,000 enjoying Chris Burkard's photographic stories on Instagram: