Organization Mission/Purpose
CAMAT's mission is to promote culturally-rooted and environmentally-friendly tourism as a vehicle for poverty reduction in the Hindu Kush Mountains and northern Pakistan as a whole. We have been instrumental in highlighting the peaceful traditional cultures of the Kalash, Kho and Wakhi communities in northern Chitral and have developed the same as potential tourism product. The communities in Chitral and Gilgit-Baltistan, who have their own peculiar cultural heritage, are the primary potential tourism attraction in Pakistan, let alone the Hindu Kush region.
Kalash people in the three valleys—Birir, Bumborate and Rumbor—boast rich and colorful indigenous culture characterized by religious festivals e.g. Chaomost, Chilimjosht, Phool and Rut Nut. Kalash wooden images and wood carving has been recognized among travelers as an invaluable souvenir. It is purchased for decoration in museums around the world. In respect of women participating in the activities of everyday life, the Kalash are head and shoulders above their Muslim counterparts in the region.
It is worth noting that Kalash are nomads and heavily depend on livestock as source of income, meat and diary produce and so on. Goat is the symbol in the Kalash culture. During festivals and funeral feast in particular, hundreds of goats are killed. However, the degradation of the natural environment and deforestation has negatively impacted the population of goat, which will likely threaten the very core of the culture and religious practices of these communities.
Kho communities trace their origin mostly to Central Asia from where their ancestors migrated to present day Chitral. They are hospitable and friendly people with a comparatively high degree of tolerance. There are famous Kho cuisines such as 'chirashapik', 'ghalmandi', 'karhi' and 'poshor tiki' to be consumed with great relish for their tastiness. Freestyle polo is the most popular sport played during Jashan-e-Shandur [Jul 7, 8, 9 every year], Jashan-e-Qaqalasht [in the first week of May] and Jashan-e-Chitral [a one week festival starts in the last week of September]. People from the remote valleys and villages come to participate in these cultural events with great enthusiasm. The contest between the teams of Chitral and Gilgit at the Shandur polo ground is a sensational one. The spectators from both Chitral and Gilgit are thrilled to watch the standard freestyle polo here. Likewise, paragliding has become one of the popular sports among the younger generations in the Chitral district in recent years. At present there are 15 newly trained paragliders who perform during festivals e.g. Jashan-e-Chitral, Jashan-e-Shandur and the like. Paragliding is likely to become another vital tourism product that will bring in national and international paragliders to the region.
Wakhi communities along the Wakhan Corridor in the Eastern Pamir speak Dari Persian and Wakhi language. They have unambiguous ethnic linkages with their ancestors in Tajikistan, Kyrgyzstan and Badakhshan province of Afghanistan and so on. They showcase quite unique cultural assets in respect of 'buzkashi' and 'yakpolo'. The handicrafts, folksongs and folkdances are unique and worth appreciating. Craftsmen prepare coats and shoes from raw leather to keep them warm throughout the harshest of the six month winter. Cattle-rearing is the mainstay of the local economy, which they sell once a year and store food items for the long winter. In recent years Jashan-e-Broghil [Broghil Festival] has become famous and many national and international tourists have shown interest in this unique cultural event.
The landscape of the Eatern Pamir (Wakhan Corridor) is incredibly beautiful with more than forty lakes of different size and altitude of which Kurambar is the highest and the largest one. Marmot, grey wolves and a range of flora and fauna could be other sources of attraction.
Products and/or Services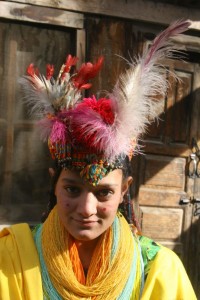 In view of the characteristics of the above destinations, it becomes pertinent to diversify tourism products and spread services equally throughout the region so that the benefit will be equally distributed amongst the communities and stakeholders. Our packages and services are as followed:
Adventure Tours/Mountaineering
Trekking Info/Services
Cultural Tours
Traditional Music
Paragliding
Horse Riding
Wildlife Watching
Cycling from Chitral to Gilgit
Vehicle Services
Guiding Services
Tour Kalasha Valleys
Tour Northern Chitral
Tour Northern Areas
Primary Market/s-Audiences Served
CAMAT envisages market expansion in South America, North America, Europe, South Asia, Far East and Central Asia. Northern Pakistan, Chitral in particular has a history of tourism with visitors from the above stated markets. Capitalizing on past linkages and experiences, we would like to undertake fresh initiatives to expand our market in different continents worldwide.
Geographic Reach/Areas of Operation
Northern Pakistan—NWFP, Malakand division, Chitral and Gilgit-Baltistan—is the northernmost part of country. It has a healthy natural environment, fresh water resources [falls, rivers and springs] and lofty peaks [Terich Mir, Saraghrar, Noshaq]. The Terich valley has always been a source of fascination for mountaineers in the past. With picturesque landscapes offering tremendous potential for trekking, and 32 natural trails of different altitude and length, it is a paradise for trekkers and alpinists. Likewise, Nanga Parbat, Broad peak, Lady Finger and a range of other peaks in Gilgit-Batistan attract a large number of adventure travelers and mountaineers.
The total population of Chitral and Gilgit-Baltistan is estimated to be more than 120,000 – peaceful, hospitable, friendly and helpful people with a rich tourism background over the last 300 years.
While CAMAT's areas of operation have been throughout Pakistan, we operate in the North West Frontier Province with particular focus on the Hindu Kush region, that is to say, Chitral and Gilgit-Baltistan.
We are cognizant of the reality that without proper and effective partnering with other tourism partners, companies and association worldwide, it is obviously unlikely to promote the cause of tourism by agencies and companies working in the less developed region of the world. CAMAT is thankful to the Adventure Trade Travel Association (ATTA) membership that will create an opportunity for linkage development considered as a mile stone in promoting tourism in northern Pakistan.
Searching and targeting new markets is one of our major interests in becoming members of ATTA's august network. For us it's a launching pad to highlight, share and market our destination, products and services. The peace, friendliness and hospitality of the communities in northern Pakistan—Chitral and Gilgit in particular—together with the natural environment has to be harnessed for the economic and social welfare of the local communities in the Kalash, Kho and Wakhi regions as well as in Gilgit-Baltistan. In conclusion, we believe the membership will open up new tourism vistas.
CAMAT plans to enhance partnership opportunities and working relations with like-minded tourism businesses, companies and association worldwide. This will afford us ample opportunities of mutual learning and reinforcing the aspects of capacity building, knowledge sharing and most importantly building viable partnerships for the mutual benefit of us all.
For further details you can be in contact at the following address:
Shams Uddin
CAMAT [Chitral Association for Mountain Area Tourism]
NWFP, Pakistan
Tel: +92 943 413540, 413708
Cell: +92 302 5975059
Email: [email protected]
Website: www.ecoclub.com/blogs/blogger/Shams%20Uddin/