By Rebeca Yanez
Membership Director, Latin America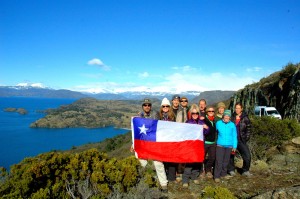 In September 2013, the ATTA launched its first AdventureWeek in partnership with Turismo Chile and the Tourism Boards of the three most Southern regions of Chile: Los Lagos, Aysén and Magallanes.  AdventureWeek, which in essence is an adventure specialized Familiarization trip, is also a yearlong project that includes training and education about the destination´s adventure, cultural and natural resources.
As part of this training ATTA along with Chile developed a series of educational webinars in which each Chilean region showcased different adventure experiences, breathtaking landscapes, lodging, connectivity, and local adventure tour operators.  The target audience was ATTA's community of outbound tour operators, travel advisors and specialized international media who wanted to learn more about Chile's adventure travel resources.
After the first Webinar, Sandy Cunningham, Founder and Sales Director for Uncharted Outposts reached out to the ATTA team with invaluable feedback on how to make these destination-focused webinars more engaging, unforgettable and most importantly, useful for tour operators like hers. She was in search of key information to help expand their programs into Chile for 2014, which they are now doing in partnership with Outside Magazine under the new adventure travel company, OutsideGO: "Chile is on our agenda in a big way for 2014-2015 – big thank you to you and your team for all the Chile promotions you have been doing over the past years – it really inspired us!" says Cunningham.
OutsideGO gave the ATTA a sneak peak at their Chile itineraries. Highlights include:
Nonstop adventure, hiking, biking, kayaking, sailing, horseback riding, hot springs, yoga
Puma tracking with expert puma guides
Wildly diverse landscapes, from desert to glacier, ocean to mountain
The ATTA strives to incorporate member feedback and input in all of its programs, and this is a prime example of how members themselves have an impact on increasing the value of membership – for their businesses, destination partners and the ATTA team.