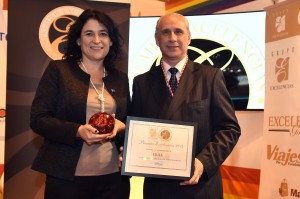 Due to its outstanding labor in the adventure tourism area, Chile received a 2014 Tourism Excellence Award from the Excellency Group in the FITUR fair, that took place in Spain. The editorial group delivered this recognition to Chile, thanks to the "Austral Destination Adventure Tourism" project, through which our country presented the work and development achieved in this matter in Chilean territory.
The Excellency Awards were created in 2005, aiming to recognize the work of institutions and personalities in the area of tourism, culture and gastronomy.
In the nomination of Chile at the tenth edition of this award, the country´s preoccupation for preserving its wild and pristine natural environment was highlighted, becoming an advantage to attract visitors from all over the world.
The award was received personally by the Chilean Sub secretary of Tourism, Javiera Montes, who highlighted that "this is a recognition to continue strengthening adventure tourism in our country, especially considering that this year we are the host to the Adventure Travel World Summit organized by the Adventure Travel Trade Association (ATTA), event that will allow us to gather close to 700 tour operators from 60 countries".
Meanwhile, Andrea Wolleter, general manager of Turismo Chile, institution in charge of internationally promoting the country, added that "this award is a great recognition to the work we have been doing to strengthen adventure tourism in our country, and preserve our natural attractions that marvel foreigners so much".
Chile in FITUR
With the objective of promoting the ATWS summit, and within the framework of FITUR, Chile and ATTA offered a cocktail to professionals of the tourism industry. This occasion was the ideal instance to make known the conditions that position Chile as one of the best places to develop adventure activities, and to encourage the creation of business networks concerning this industry.
During Fitur, Chile additionally promoted its attractions with the regions of Valparaiso, O´Higgins and Magallanes, and the Municipality of Valparaiso, as well as 14 tourism companies from Chile.
Contributing members are responsible for the accuracy of content contributed to the Member News section of AdventureTravelNews.