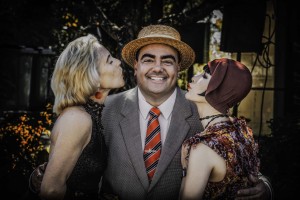 The official regional tourism organisation for the Blue Mountains, Lithgow and Oberon region will have a new chairman from Monday, February 24, for the first time in six years.
Blue Mountains Lithgow & Oberon Tourism (BMLOT) chairman Randall Walker will not nominate for the position at Monday's annual general meeting.
He will also resign as a director of the BMLOT board.
Mr Walker will remain with the organisation as interim chief executive officer until June.
"It has been an absolute honour and a privilege to represent one of the most magnificent and recognisable destinations on the planet – I love waking up in a World Heritage Area.
"I have lived and breathed the Blue Mountains, Lithgow and Oberon region every single day for the past six years and am proud of the milestones the organisation has achieved in that time.
"There will always be people in life who say things can't be done. I am not one of them and I enjoy working with similar minded people. We have done whatever it takes to protect, promote and share this region with the world."
Since his involvement with the organisation from November 2007, Mr Walker has instigated and implemented many positive achievements for BMLOT and regional tourism in NSW.
Internal BMLOT projects have included giving the organisation's members a greater say on its marketing strategy through target teams and advisory groups, implementing in-house public relations resources and initiating industry-led sales missions to maximise business written for the destination.
As well as serving as a Tourism Industry Council NSW director, Mr Walker was a founding member of the Forum Of Regional Tourism Organisations (FORTO), of which he was chairman for two years, with all 12 NSW regional tourism organisations (2008-2011) to share information highlight the significance of regional tourism.
He has been a fervent government lobbyist and advocate for regional tourism in general and the Blue Mountains, Lithgow and Oberon region specifically, negotiating millions of dollars in state and federal governments funds for the regional tourism industry.
During his time as chairman, BMLOT has facilitated tourism funding to local tourism organisations, Blue Mountains Attractions Group and Blue Mountains, Lithgow and Oberon councils.
Under his leadership, the BMLOT region was recognised by the State Government as the number one regional NSW destination for awareness in the domestic market.
Before the October 2013 bushfires, BMLOT was tracking to achieve the target of doubling overnight expenditure by 2020, and BMLOT is the strongest performing NSW regional tourism organisation at the NSW and Australian tourism awards.
Mr Walker established the BMLOT Indigenous Development Tourism Program, which has resulted in clans of the six Aboriginal language groups across the Greater Blue Mountains World Heritage Area able to self-determine experiences they wish to share with visitors.
The first edition of the Aboriginal Cultural Experience Guide showcases 10 new experiences and BMLOT has helped Aboriginal groups commercialise them.
With no state or federal government funding support, Mr Walker drove Blue Mountains Crossings Bicentenary celebrations last year including helping to deliver the vision of Philip Hammon for Australia's largest ever civilian flyover with 20,000 attendees across 11 locations and gifting 14,000 Blue Mountains students and teachers from 37 schools a Bicentenary Commemorative Holey Dollar with Mr Hammon and Tom Colless OAM.
BMLOT accelerated the Grand Cliff Tops Walk concept under his leadership in partnership with Blue Mountains Council, National Parks & Wildlife Service and Blue Mountains World Heritage Institute.
However, the resignation of long-time board colleagues Geoff Luscombe (treasurer) and Wayne Cooper (secretary) was a good opportunity for renewal and change for the BMLOT board executive including a new chairman, Mr Walker said.
The recent sensationalist and inaccurate media reporting of the October 2013 bushfires' physical impact on the tourism industry had been challenging, with enormous energy channelled into the recovery efforts.
Despite that and minimal government funding, "I am fully committed to this process, motivated each day by the fact that many operators ran at a loss October to January" and proud of BMLOT's conduct and effort during and after the fires.

Mr Walker will continue with BMLOT as interim chief executive officer until June, focusing mainly on ensuring the delivery of $349,500 in contracted state and federal funds.
Former NPWS Blue Mountains regional manager Mr Luscombe, thanked Mr Walker for his "amazing energy and direction".
In just a few short years he had transformed BMLOT from a low budget outfit operating mostly from within a council to a fully independent high achieving organisation, Mr Luscombe said.
"Early on you galvanised the board around a singular brand and vision for the organisation which we have not wavered from.
"BMLOT became the best performing destination marketing organisation in NSW and probably generating the best return to the industry on funds invested of any similar organisation in Australia.
"You have been the driving force behind this through vision and lots of plain hard work."
Blue Mountains Councillor Daniel Myles said: "The debt that our area owes you cannot be overstated.
"People across the Blue Mountains, Lithgow-Oberon region are better off for having had a vibrant and focused tourism advocacy body for our area.
"And as tourism is an export industry for Australia, BMLOT under your guidance has contributed to the nation's wellbeing as well."
Contributing members are responsible for the accuracy of content contributed to the Member News section of AdventureTravelNews.