Call of the Wild Adventures, Inc connected through the ATTA as an early adopter of PathWrangler, the premier online trip management system, with great success.  Getting their clients prepared for active vacations when they have varying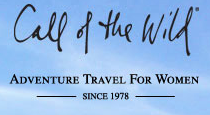 degrees of experience is quite the challenge. Call of the Wild turned to Pathwrangler to provide them with a platform to communicate essential trip information and last minute changes while enabling clients and guides to build relationships and engage with each other pre and post-trip.
One such example is the upcoming classic Annapurna Base Camp trek in Nepal.  "Two women are previous clients (one of whom participated in the 2012 Everest region trek to Tengboche Monastery), two ladies are brand new clients (a mother/daughter team), and one is the American Alpine Club live auction winner of the Annapurna package," says Call of the Wild Owner Emilie Cortes. "The woman who is the experienced Nepal trekker says she loves the interactive gear list that includes comments and brand recommendations.  Other women appreciated the packing system and travel tips, the recommended reading list and the reminder several months out to get recommended vaccinations from their doctor.  When we needed to fill five remaining spots on the trip the women were our greatest advocates and easily shared the pertinent information through Pathwrangler's social media links.
Doug Heinz, CEO of PathWrangler, has been following this trip closely and explains, "This Annapurna trip from Call of the Wild highlights two primary issues that operators are always facing, 1) getting trips filled up, and 2) organizing everyone from ground operators, guides and trip participants in a way that keeps friction low and enthusiasm high.  The best part is that when the trip is over, everyone is able to come back to the same place to share their experiences and feedback on the trip.  This enables busy tour operators to build stronger bonds with their clients ultimately bringing them back again and again."
PathWrangler's enables tour operators to collect previously disparate tools such as Word Docs, PDFs, webpages, endless email threads, Google Docs and spreadsheets in a single location along with maps, photos and at the same time easily capitalize on social network integration.    Elaborating, Heinz says, "Putting these tools into a central place allows your trip content and the people that are interacting with them to work for you.  Not only does it simplify logistics, but the enthusiasm that people generate by sharing their experiences with their friends and family through their social networks enables the operator to more easily sell additional trips.  Clients that use PathWrangler are seeing dramatic changes in how they run their business."
Heinz credits PathWrangler's membership at the ATTA as a critical element in helping bring this relationship together, "As a member of the ATTA for three years, they have provided us with far more than just a place where there are a lot of tour operators to connect with.  Their ongoing process of bringing thought leadership and providing resources to making the industry grow and thrive has given us the opportunity to connect with hungry tour operators looking to take their businesses to the next level.  Our experience with Call of the Wild demonstrates just how easily they make this happen.  The ATTA is critical to the ongoing success and rapid growth that our industry is experiencing."
Limited spots are still available for Call of the Wild's Annapurna Base Camp trek, which will run from November 7 through November 23, 2013. The Annapurna package included a spot on the Annapurna Base Camp trip, dinner at Chez Panisse with Arlene Blum, the leader of the first all American and all female ascent of Annapurna in 1978, and books and t-shirts from Arlene Blum and Alice Waters." Women with strong stamina, hiking experience, a flexible attitude, and a sense of adventure are encouraged to sign up here.
Contributing members are responsible for the accuracy of content contributed to the Member News section of AdventureTravelNews.