Comfort in the wilderness. A concept born in Africa and forever a key element in Austin Adventures' active tour strategy as they explore the world's most remote and intriguing places. Guests on the company's newest safari experience will now be introduced to the latest development in creature comfort in the wild.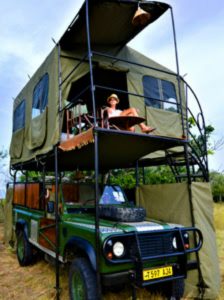 On the plains of the Serengeti in Tanzania the annual beat of hooves from June through August signals "the great migration," an exodus of an estimated 1.5 million wildebeest with thousands of zebra and antelope in tow. Austin Adventures will be there as these magnificent beasts depart the dry plains for lush grasslands of Kenya's Masai Mara.
In summer 2018 the masters of "wow" when it comes to surprises on the trail, Austin Adventures, will ferry guests off road on a new 11-day/10-night Tanzania/Bush Rover Explorer itinerary right into the thick of this migratory action. Here a posh home, a private Bush Rover Suite, is assembled atop each Land Rover. In glamping comfort (elevated bedroom, solar powered hot water, wood paneled bathroom, lights and power sockets for battery charging) from their private balconies, guests witness "the great migration," a feat of Nature that's right up there with the solar eclipse and the Northern Lights. And yes, the lions roar here too. The Bush Rover Suite then folds up back to a moving vehicle and moves on to the next exciting view point, leaving no trace of human footprint.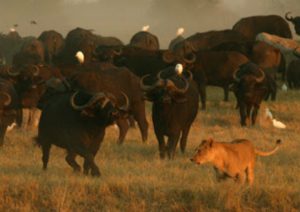 Austin Adventures, the world's leading multisport adventure company for families and adults, delivers the migration along with traditional game viewing at five other prime locations. The itinerary begins with a two-night stay on the slopes of Mount Kilimanjaro in Moshi, Tanzania. Here guests roast their own beans while visiting a coffee plantation. After transferring to a bungalow on Lake Victoria, guests are draped in the stars of an African night while enjoying five-star dinners interspersed with days full of guided bird walks and canoeing among Africa's densest and most diverse population of birds. Leaving the water behind, a game drive into Serengeti National Park leads to the wildebeest, two glamping nights and animal-filled days. All too soon guests migrate back to Lake Victoria and a posh hotel near Mwanza that offers a Nirvana Spa, swimming pool, several restaurants and a bar.
Mixing it up isn't just a cocktail formula, however, as Austin Adventures transfers its guests by air from Mwanza to Dar es Salaam and on to Saadani National Park, the only coastal wildlife preserve in east Africa. Here at an elephant conservancy guests can climb a 20-meter viewing tower, the Roof of Saadani, to overlook surrounding bush and the Indian Ocean. Then it's on to this ocean where game drives mingle with walks on the beach and perhaps a dip or two. The sounds of the sea accompany sweet dreams on the last two nights at a camp run by solar power and created of recycled natural materials.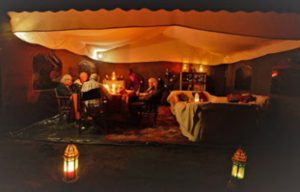 Even on the final day not a minute is wasted. Guests are up early and head straight to the Wami River for a boat safari amongst hippos and crocs before transferring to the airstrip for flight to Dar es Salaam for their onward journeys.
Exhilarating outdoor adventures that blend with cultural interactions are intrinsic to other new itineraries in Africa, Asia, Europe and South America. Austin Adventures' close-to-home programs continue to embrace US and Canadian national parks. "We've been hard at work putting together a roster of new trips and destinations second to none," says Dan Austin, founder and visionary director of Austin Adventures.
Contributing members are responsible for the accuracy of content contributed to the Member News section of AdventureTravelNews.