The #1 Travel Show in the U.S. Poised to Bring Even More Young Viewers to Broadcast TV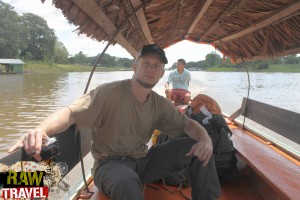 New York, NY – AIM Tell-A-Vision® Group (AIM TV) announced today that newly formed Bright-Line Distribution has been retained to handle U.S. broadcast distribution for the syndicated television series Raw Travel® as the show prepares for its 3rd Season, which debuts Fall 2015.
Santa Fe, New Mexico based Bright-Line is a partnership between television veterans Jacqueline Hartley (formerly Warner Brothers Domestic Television Distribution) and Nancy Cook (formerly NBCUniversal Television Distribution) who will be representing the show at the annual NATPE (National Association of Television Programming Executives) Conference in Miami later this month and to stations all over the U.S in the coming months.
Thanks to a successful Fall 2014 Season, Raw Travel has quietly become the nation's #1 ranked authentic travel & lifestyle series on commercial television, out delivering all comers on broadcast or cable TV.
The show's unique format features "touchstones" that cater to a diverse audience. These touchstones include affordable, off-the-beaten-path destinations, adventure sports, ecotourism, voluntourism (giving back) and underground music and culture. This special mix has made it a hit among a broad range of demographics, while demonstrating a particular appeal among young and hard to reach audiences such as millennials, 18-34 year olds and multicultural viewers.
Raw Travel's motto of "Travel More… Fear Less" comes at a time when the producers are planning Season 3 adventures to international spots all over the globe including Africa, Asia, Latin America, The Middle East and more, as well as a very unique look at domestic destinations such as Utah, Oregon, the Midwest, Los Angeles and more.
"Raw Travel is growing rapidly and we're excited to welcome Bright-Line to our team. Nancy and Jacqueline will work with Vice President & Associate Producer, Jon Krobot, and myself to put Raw Travel's message of 'travel for everyone' in front of more people than ever," states Robert Rose, Founder of AIM TV Group and Executive Producer and Host of the show. "Many agree that Raw Travel is good. Now we intend to make it great. Adding Bright-Line will help us achieve this goal," Rose continues.
"The opportunity to represent Raw Travel, an independently produced quality show that speaks to a young demo and to work with Robert Rose and his team is a perfect fit for the Bright-Line portfolio," states Jacqueline Hartley.  Adds Nancy Cook, "We're excited about representing this weekend rising star which offers stations dynamic programming to compliment the abundance of outdoor and sports enthusiasts already watching weekend broadcast TV."
Raw Travel can currently be seen in 116 U.S. cities representing almost 100 million homes and 86% of U.S. Homes as well as in key territories such as Asia (Discovery Channel), Belgium (RTN) and more. Viewers can visit here for a complete listing of current cities, affiliates and time slots.
Contributing members are responsible for the accuracy of content contributed to the Member News section of AdventureTravelNews.