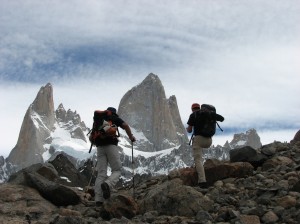 Introducing a new route from El Chalten to Villa O'Higgins for adventurous travelers interested in discovering the beautiful Patagonian region of Argentina and Chile. This international crossing is self-guided and is composed of 5 steps for a total length of 133 kilometers and duration of 2 days. Joining the extreme south of Chile's Carretera Austral in Villa O'Higgins with Argentina's El Chalten by way of the classic Route 40, this new route represents the first time travelers in Patagonia can go directly from Argentina's trekking capital of El Chalten to Chile's trekking capital of Torres del Paine without having to return to El Calafate. In addition, with Villa O'Higgins' glaciers and El Chalten's trekking, this route combines the highlights of Patagonia in a much more time-efficient and economic way than was previously available. This new route has been highly anticipated in Patagonia and presents a great opportunity for tour operators who sell trips in the area.
Beginning in the morning, the first segment takes guests from El Chalten to Laguna del Desierto, where they will travel a distance of 40 kilometers, either by bus (1.5 hours) or by bike (2-3 hours). After completing the first segment, guests will board a ferry that will take them across the Laguna del Desierto with a trip of 45 minutes. Alternatively, guests can go by foot on a 16 kilometer trail that spans the lagoon for a more active and economical trip.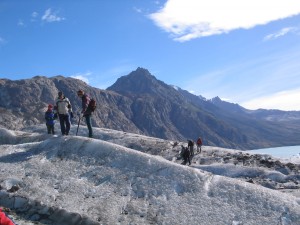 The third segment of the journey takes guests across the border of the two countries, traveling from Laguna del Desierto to O'Higgins Lake. With a distance of 6.1 kilometers to reach the Chilean border, guests can choose between trekking (2 hours), horseback riding (1 hour) or biking (2-4 hours). After crossing the border, the remaining portion of this segment contains a distance of 15.9 kilometers, which guests can choose to trek (4 hours), ride on horses (2.5 hours) or bike (3 hours). Alternatively, guests can opt for a transfer from Laguna del Desierto to O'Higgins Lake, which contains a 10 km journey on horseback and the rest of the way (12 km) by van.
For the fourth segment of the journey guests will navigate by boat across O'Higgins Lake, where they will pass in front of Glacier O'Higgins en route. This trip lasts around 2.5 hours, but guests have the option of signing up for an additional navigation (5 hours) to the glacier that will take place before the trip across the lake. After arriving at Bahamondez Port guests will begin the fifth and final segment of the journey, where they will travel 7 kilometers from the port to Villa O'Higgins. For this segment guests will have the choice of traveling by bus (15 minutes) or by bike (35 minutes).
This new route is a great way for guests to explore the beautiful landscape of Southern Patagonia while experiencing a unique adventure along the way. With minimal international borders previously available to travelers in Patagonia, this new crossing allows guests the opportunity to forego an additional internal flight on their journey through Patagonia, thus conserving both time and money. To find out more about this international crossing from El Chalten to Villa O'Higgins, contact Say Hueque Argentina Adventures!
Contributing members are responsible for the accuracy of content contributed to the Member News section of AdventureTravelNews.