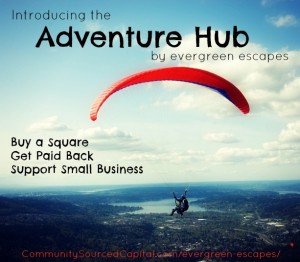 We hope the new year is looking bright.  EverGreen Escapes has big news for 2014.
After years of hard work, it is time for us to realize a dream and expand, not only into a bigger office space, but into a brand new Adventure Hub in Seattle, a place where travelers can congregate, educate, learn, share, network, and plan extraordinary adventures throughout the Northwest and beyond!
We are financing this growth with the help of Community Sourced Capital , an innovative local finance company that helps small businesses borrow money directly from people in their own community, and pay it back in full.
BUY A SQUARE!
(or a bunch of squares)
We invite you to become a part of Seattle's first and only green Adventure Hub and help bring Cascadia to the forefront of Adventure Travel.
ABOUT THE HUB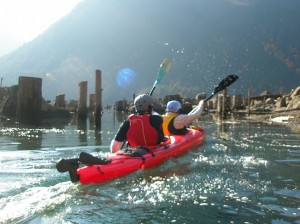 The Adventure Hub will be a place where members of the travel industry can collaborate with each other and engage with the community and public through educational events, guest speakers, workshops, networking and social events.
In addition to EverGreen Escapes, the Adventure Hub will be home to several other small local businesses in the travel industry to be announced. Locals can stop by to dream up, design and research global adventures, while visitors to the region can come in to learn about the opportunities for adventure right here in Cascadia.
HOW COMMUNITY SOURCED LENDING WORKS:
Squares themselves are simple loans and they act like this: you put $50 in and you get $50 out. It's not an investment, it's not a donation, it's a right-sized mechanism for moving money to a business in your community while still getting paid back. We hope that this innovative concept catches on and enables more small businesses to reach their goals.
GET ON BOARD!
We have to reach a minimum of $25k by January 31st to get our loan and we need your help!
Purchase a $50 Square today and be a part of Seattle's first and only Adventure Hub!
Contributing members are responsible for the accuracy of content contributed to the Member News section of AdventureTravelNews.