Extremely Popular Active River Cruise Segment Continues to Grow with More Biking and Hiking Departures and Expanded Offering for Full Ship Sailings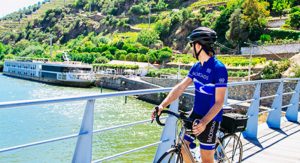 Backroads today announced that it is launching a brand-new small ship ocean cruise segment and reinventing water travel for active travelers. The company is pioneering a new kind of adventure water travel with brand-new small ship ocean journeys in far-flung locations for travelers looking to combine flexible top-rated active vacations with the luxury of living aboard state-of-the-art expedition vessels. Backroads' intimate ocean cruises offer thoroughly planned active trips with unparalleled ship- and land-based support – in Alaska, Antarctica, Japan, New Zealand, the Baltic Sea, Galápagos, Iceland and more – totaling 51 departures on 14 itineraries.
This new small ship ocean cruise segment will augment the company's ever-popular active river cruise offerings that continue to grow with multiple departures and itineraries along the Amazon, Danube, Douro, Mekong, Rhine and Seine Rivers. Backroads has been taking to the water with active river cruises since 2015 and has seen a steady rise in popularity and demand since launch.
With nearly 40 years as a leader in active travel, Backroads is once again blazing new trails in combining their one-of-a-kind outdoor adventures with the flexibility, ease and comfort of deluxe small ocean ships that include onboard yoga, stretching and an overall focus on wellness. Fully supported by best-in-class Trip Leaders on land and at sea, Backroads guests can hike, bike and actively explore at their own pace by day, returning to elegant floating hotels for exceptional dining, seafaring camaraderie and overnight passages to exciting new ports, all with the convenience of unpacking just once.
"Our guests love our active river cruises and have been asking for additional water adventures and destinations since we first launched that segment," said Tom Hale, Founder and President of Backroads. "We've heard everyone loud and clear and are now taking cruising to the next level, and then some, with our new small ship ocean cruises. Water-based adventure trips are incredibly dynamic and allow us to create itineraries that wouldn't be possible if traveling solely by land. We're thrilled to bring our guests more chances to explore the world with some of the most beautiful and diverse experiences we've ever offered."
Contributing members are responsible for the accuracy of content contributed to the Member News section of AdventureTravelNews.