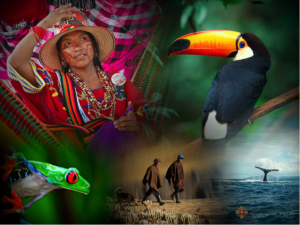 Aventure Colombia creates authentic tailor-made journeys only in Colombia to discover the must-see destinations as well as off-the-beaten-track regions in which we are specialised.
Thanks to our expertise and excellent knowledge of Colombian destinations, we cater all kind of travellers' needs, from 1-day guided tour in Tayrona National Park to 2-month trip in most remote Colombia. All our trips are adapted to the client's needs, desires, budget, time and travel style.
The value of our journeys relies on good to excellent trustworthy service providers, long-term relationship with them and with local communities, as well as a passionate team dedicated to offer high quality services (personalised follow-up throughout the trip, permanent assistance in 3 languages, after sales, etc).
Aventure Colombia has plans and tours to offer in all of the 5 main regions (the Caribbean Coast, the Pacific, the Amazon, The Llanos and the Andean region). Every region has its own cultures, indigenous communities, landscapes and other particularities.
Examples of 1-day activities are guided-tour of the historical city centre of Cartagena and Bogota,

Our already-built 2 to 5-day tours are called packages. Examples of such packages are Discovery of Caño Cristales, Exploration of Punta Gallinas in the desert of la Guajira, Trek to Ciudad Perdida or el Cocuy, Expedition to the Cerros de Mavecure, etc.
Finally, our 2 to 5-week circuits are a balanced and adapted combination of packages throughout the country.
Our trips combine local guides (Spanish, English of French-speaking), hotels (from community-based accommodations to 5-star hotels, though our focus is on 2 to 4-star ones), transportation, meals, activities, National Parks entrances, flights…
Also, our products can be classified into "kind of interest": Sports and Adventure / Discovery Trip / Exploration and expedition / Family / History and Culture / Couple / Luxury and Prestige / Nature and Ecotourism / Nature and Safari / Press Trips / Relaxation and Beach / Return to the roots (Adoptive Families).
Aventure Colombia is a pioneer Colombian DMC and one of the biggest and most trustworthy on French-speaking market. More generally, we target all the French-speaking populations, as well as English and Spanish-speaking travellers as secondary target.
Español
Aventure Colombia crea viajes a la medida, auténticos e inolvidables, para descubrir tanto los destinos más importantes en Colombia como regiones fuera de lo común, en las cuales estamos especializados.
Gracias a nuestra experticia y excelente conocimiento del país, suplimos las necesidades de todo tipo de viajeros, desde un tour de 1 día en el Parque Nacional Natural Tayrona hasta un paquete completo de dos meses en la Colombia remota.
Todos nuestros viajes están adaptados a las necesidades de cada cliente, a sus deseos, presupuesto, tiempo y estilo de viaje.
Lo valioso de nuestros viajes se debe a buenos y excelentes proveedores de confianza, relaciones de larga duración con ellos y con comunidades locales, al igual que a un equipo apasionado dedicado a ofrecer servicios de alta calidad (seguimiento personalizado a lo largo de todo el viaje, asistencia permanente en tres idiomas, servicio post-venta, etc).
Aventure Colombia propone planes y tours en las cinco regiones del país (la costa Caribe, el Pacifico, el Amazonas, los Llanos y los Andes). Cada región tiene su propia cultura, comunidades indígenas, paisajes y otras particularidades.
Ejemplos de actividades de un día son la caminata guiada al Pueblito de Tayrona o tours guiados en bicicleta en el centro histórico de Bogotá o de Cartagena.
De 2 a 5 días, son nuestros paquetes. Ejemplos son Caño Cristales, Punta Gallinas en el desierto de la Guajira, Ciudad Perdida o el Cocuy, Cerros de Mavecure, etc.
Finalmente nuestros viajes de 2 a 5 semanas son una combinación balanceada y adaptada de los paquetes a través de todo el país.
Nuestros productos combinan guías locales (que hablan español, francés o inglés), hoteles (desde alojamiento comunitario hasta hoteles de 5 estrellas, aunque nuestro enfoque esté en hoteles de 3 y 4 estrellas), transportes, comida, actividades, entradas a Parques Naturales Nacionales, tiquetes aéreos, etc.
Nuestros productos también pueden ser clasificados según "intereses": Deporte y Aventura / Descubrimiento / Exploración y expedición / Familia / Historia y Cultura / En pareja / Lujo y prestigio / Naturaleza y Ecoturismo / Naturaleza y Safari / Viaje de prensa / Relajación y playa / Volver a las raíces (familias adoptivas).
Aventure Colombia es una agencia pionera en Colombia y una de las mayores y más confiables en el mercado francés. De manera general, nuestro mercado principal es los viajeros franco-parlantes, al igual que los de idioma inglés y español como mercado secundario.