Adventure Travel Programs Steeped in Authenticity and Value Embrace Five Continents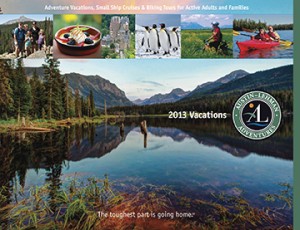 Billings, MT – Award-winning tour operator Austin-Lehman Adventures, the active travel company setting adventure travel standards in The Americas, Europe, Africa and the Caribbean, announces that 21 new itineraries both domestic and foreign will bring its 2013 roster of trips to over 80 scheduled programs on five continents, with pricing on 72 percent either held at 2012 levels or lowered.
"We took a hard look at our established competition and can safely say we can't find anyone in a similar arena with better pricing. We work hard to see that Austin-Lehman Adventures continues to maintain recognition for best service and vacation value," said Dan Austin, founder.
Austin said the company's overall health and strength and an improving economy have allowed it to maintain prices on 46 percent of its trips and drop prices on 26 percent of its itineraries.
"A combination of growth in 2012, improved buying power and yield management, inventory increases and the strength of the dollar all bring benefit to our clients," he said. "We're focused on maintaining our reputation for exceptional value." In the March 2012 issue of Travel + Leisure, Austin-Lehman Adventures was recipient of the 2012 World's Best Value Award for Tour Operators.
Even on those trips that saw a modest rise in price, Austin noted that the increase averaged just less than 5 percent.
The results, said Austin, include a new cycling tour in Holland running from $300 to $600 per person less than comparable trips from other companies; an improved itinerary with a price drop on their Bryce and Zion Adventure in Utah; and through partnerships in Southern Africa, four new scheduled wildlife safaris in Namibia and Botswana starting at just $3,498 per person.
The new-for-2013 itineraries include expedition cruising in Alaska and the Antarctic; wellness spa, yoga and retreat packages in Utah and Chiapas, Mexico; cycling trips in Arizona, the Dordogne region of France and Holland; expansion of Africa programs in Namibia, Botswana and Tanzania; and creation of new multisport adventures to Oregon's Crater Lake National Park, Nicaragua, Ireland, Scotland and Turkey.
New family adventure itineraries are being launched in Normandy, France and Oregon's Crater Lake; and online visitors will see an expansion of website-only listed trips to Croatia, Whistler BC, Slovenia and Cuba.
"Family travel has always been an important part of Austin-Lehman's trip program," says Austin. "We continue to be recognized for our quality and exceptional value." In the September 2012 issue of Travel + Leisure ALA was named the "Top Family Adventure Outfitter" in the world from a field that also included top brands such as Disney Adventures and Micato Safaris. The company has also received Travel + Leisure's World's Best Tour Operator Award (a Top 3 finisher) for four consecutive years from 2009 to 2012. For its humanitarian work, in 2011 the company was honored with the Global Vision Award for its Wheels of Change bicycle empowerment initiative that sends donated bicycles to Africa.
Austin-Lehman Adventures' 2013 program is outlined in a free 100-page, four-color catalog, "our best effort to date!" said Austin. To request a copy please call 1.800.575.1540 or visit here. See all the new trips for 2013 here.
Contributing members are responsible for the accuracy of content contributed to the Member News section of AdventureTravelNews.