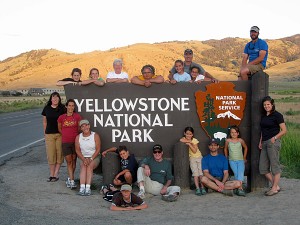 Billings, MT – Perhaps Austin Adventures' premier claim to fame over 40-plus years is the company's commitment to sharing the beauty and lore of America's National Parks, celebrating a milestone in 2016 that Dan Austin, Founder and President, can't pass up.
"At Austin Adventures, National Parks are what we do best. Our homegrown guides have been leading small groups through America's most pristine and protected lands for decades. Combine our legacy with that of Xanterra Parks and Resorts – who first hosted guests at the Grand Canyon in 1901 – and you can rest assured that when it comes to behind-the-scenes access and insider's knowledge, our National Parks' experience is simply unbeatable," Austin said.
To mark the centennial anniversary of the National Park Service, the National Park Foundation and companies such as Austin Adventures (http://www.austinadventures.com/) will be lending financial and promotional support to a variety of national initiatives. Specific to Austin Adventures will be.
4th Graders Travel FREE in 2016: The National Park Foundation and the White House are launching an Every Kid in the Park initiative whereby 4th grade students across the country have free access to National Parks throughout the 2015-2016 school year. As advocates of this program, Austin Adventures is waiving trip fees for all 4th graders traveling on any National Park adventure with them in 2016. (Offer subject to certain conditions, see: http://www.austinadventures.com/find-your-park/)
Preserve A Park Program: Since 2010 Austin Adventures has helped honor and protect "America's Best Idea" by sending a portion of specific National Park program bookings to a designated non-profit organization dedicated to national park preservation and education. In 2016 each booking of Austin Adventures' Death Valley National Park adventure will generate a $100 donation to The Death Valley Conservancy http://deathvalleyfund.com/ a non-profit organization whose mission is to provide support and private funding for projects that preserve, protect or enhance Death Valley National Park by improving the area's natural, cultural and historic resources as well as the visitor experience.
In past years Austin Adventures sent checks to Glacier National Park Fund (Montana), the Yosemite Conservancy (California), Canyonlands Natural History Association (Utah), Crater Lake Natural History Association (Oregon), and Wind Cave National Park (South Dakota). In 2015 the recipient was the Grand Canyon Field Institute.
Tourism Cares, Inc.: As a participant in The Centennial Tour Operator Program for upcoming National Park Service Centennial, Austin Adventures will donate $2 from each guest booked on one of if its National Park trips in 2016. Donated funds will be used by Tourism Cares and the National Park Foundation to bring more than 1,000 industry volunteers to aid restoration projects at five National Parks engaging hundreds of companies for tens of thousands of dollars of labor and materials. The program will also help promote National Parks and will make grants directly to support park priorities and projects. Tourism Cares, Inc. is a 501(c) 3 nonprofit public charity that benefits society by, among others, preserving the travel experience for future generations by awarding grants to natural, cultural and historic sites worldwide.
To receive print and or digital copies of the newly released 2016 Family Adventures and Adult Adventures catalogs, please go to: www/austinadventures.com/request-catalog/.
Contributing members are responsible for the accuracy of content contributed to the Member News section of AdventureTravelNews.