Thoughtfully Curated Adventure Trips to Inspire Self-exploration and Optimism Through Unique Outdoor Experiences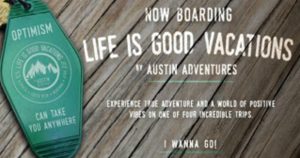 Austin Adventures, the leader in active multisport adventure vacations for families and adults worldwide is teaming up with Life is Good, a Boston-based apparel brand dedicated to spreading the power of optimism, to launch Life is Good Vacations.
This new trip series will be uniquely designed to align adventure with a journey of self-discovery, allowing guests to connect with others and the outdoors through a refreshed, positive outlook.
Life is Good has devoted 24 years to celebrating life's simple pleasures through positive art and messaging. With the launch of Life is Good Vacations, people can now experience those simple joys while in the beauty of an incredible destination of their choice.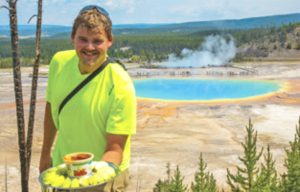 "These trips provide an unforgettable combo of pure outdoor fun, deep unplugged connections and true adventure," says John Jacobs, Life is Good co-founder. "They're a spectacular way to recharge and get a fresh perspective on the good that's around us."
Life is Good Vacations by Austin Adventures will kick off with a trip to Montana and the Greater Yellowstone Ecosystem, complete with biking, hiking, rafting, and horseback riding. Travelers will savor the destination's local cuisine, explore its hidden gems under the direction of expert guides, and enjoy its natural wonders without the stress of planning.
"The concept of 'adventure' is deeply engrained in the ethos of our company. We believe that every destination we visit is equipped with its own unique experience. With this partnership, we now have an incredible opportunity to translate Life is Good's love for nature into the actual landscapes where active individuals and families want to travel," says Dan Austin, Austin Adventures founder.
Contributing members are responsible for the accuracy of content contributed to the Member News section of AdventureTravelNews.