Exercise. Pour coffee. Eat breakfast. Brush hair. Change shirt — Wait! The exercise pants are still on (but, shhh, no one will know). Open laptop. Work hard. Repeat.
Yes, that is the daily routine most of the staff working for the Adventure Travel Trade Association (ATTA) have. As a global organization with almost 20 full-time staff members and an additional 20 part-time staff members, consultants, and advisors located in 16 countries around the world, perfecting the virtual workplace has been critical to our success, growth, and strong company culture.
What has the ATTA implemented to keep the wheels turning, create great team relationships, and maintain structure and accessibility? I want to share what we have learned along the way and let you know your team can be incredibly productive and happy working virtually as well. I've asked my ATTA colleague Jason Reckers, our operations expert, to offer some of his insider's tips too.
Organization
If your company hasn't moved to the cloud and still has internal servers in your workplace, there is a world available to you that could make your travel industry business much more flexible. G Suite (including Gmail, Drive, Docs, and Sheets) is home to all our files. Our team works exclusively in this space to create, edit, and organize documents, spreadsheets, presentations, and more. Team members access these files from any place in the world, and we can also share them easily with any partners or colleagues.
Prior to working at the ATTA, I worked for a tour company and it was a headache to communicate  with our guides in the field. Had we all been working in the cloud, all the trip files and documents would have been easily accessible for both the field and operations staff.
Jason's Insight: We saw this growing challenge early at the ATTA and knew if we didn't find a more efficient solution, we would not be able to effectively grow a global team. Working in the cloud was very new at the time, and it was before Microsoft's Office365 or Apple's iCloud solutions were just rumors in the tech press. Using G Suite (formerly Google Apps) wasn't an overnight success as many team members were hesitant about moving their files to the cloud, changing from Word or Excel as their tool of choice, and ensuring they had access anytime and anywhere (of course, this was before Wi-Fi was nearly everywhere, including at 30,000 feet in the air).
We made small leaps along the way supported by training, encouragement, and examples of Google Drive's values. Adoption escalated the quickest when everyone saw we could be editing a document live during a conference call and — going even further — that multiple team members could be editing different parts of the document during the call. No longer was it a conference call, but rather a collaborative meeting with real results at the end.
Today, we have nearly 110,000 files stored on Google Drive, and I would estimate 85% of new files are first created by the team using Google Docs, Sheets, or Presentations. We still use Word, Excel, PowerPoint, Keynote, and other tools with the mindset that it's okay to use the right tool at the right time. Yet, we still upload these files to Google Drive to make them available to others at a moment's notice from anywhere in the world.
Due to our increasing use of G Suite, we recently upgraded to the Business package at $10 USD/user/month which comes with unlimited file storage unlike the Basic package at $5/user/month which only included 30GB per user. To protect our investment, we also use Spanning Backup, which creates a nightly backup of all of our files each night on another set of servers in the cloud. This solution is $40/user/year (just over $3/user/month), and even though our new Business account with G Suite includes a Vault (backup storage) option, we feel just a tad bit safer that we have a copy of all of our files on a completely different set of servers with a separate company.
Communication
When working virtually, the importance of regular meetings with the team is critical. Depending on your business, you can do this daily or weekly. Quick check-in calls on what has been accomplished, what is up next for the week, and addressing any challenges keeps the communication lines open. And, most importantly, don't forget to talk about your life and your staff member's lives. Without a physical water cooler to congregate around, your team will want to feel connected to you personally and you will want this as well, so create a space for this purpose.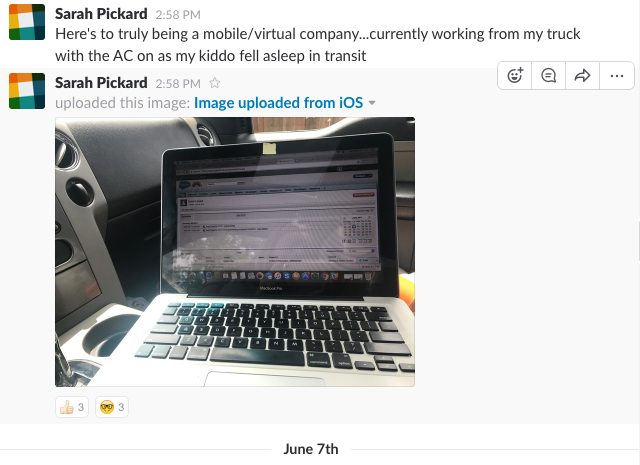 Another important consideration is video for meetings and calls. At the ATTA we use a blend of tools; we have come to understand which team members prefer video calls and which ones don't need or want it. It can be a great addition to a meeting, especially if you are having a hard discussion because body language is still important even if you're working across several locations. It can also aid in group meetings as you'll be able to assess and manage engagement. With a diverse team and cultural differences, this can be especially helpful so all voices be heard in a conversation.
Lastly, and perhaps most important, a messaging system is essential. At the ATTA we currently use Slack, however we have used Skype as well. Slack has proven to be a better solution for us because we can pin key documents to working group channels, reply in line to messages, and much more. Slack keeps our email volumes to a minimum because internal messages are sent in Slack versus email.
Jason's Insight: One of the best features of Slack, over other chat tools like Skype or WhatsApp, is the number of integrations that have been built for the platform that make connecting with other platforms easy. With the Google Drive integration we can connect documents from Google Drive to a Slack channel. Therefore, we stay organized with our files centralized in Drive (the file cabinet) and our conversations about those files in Slack.
We're currently on the Standard plan, which is about $6.67 per "active" user per month. The keyword here is active. I personally really appreciate that the billing for Slack grows and shrinks based on the number of people on our team who are active. With about half of our total team being contractors and some of those contractors only working periodically on specific projects, it is normal for someone to not use Slack for a few months at a time. Slack recognizes when an account hasn't been used for a period of time, makes those accounts inactive, and charges less for the service. Plus, when team members re-engage, there is nothing we need to do to allow them back on. They just start working and Slack recognizes them as active.
Culture
Everyone needs personal interaction, so we get the team together once a year for a retreat, however, our events also provide great opportunities for staff to connect in smaller groups. The importance of social time together is critical to build relationships and emotional intelligence about how your colleagues think, act, and feel. This is much like the importance of regular in-person meetings with your own key business partners.
Slack also provides the option for the team to create Channels about social topics ranging from "Music" to "Working Out." These can also be an important vehicle for celebrating successes and sharing personal news. I am a member of more than 80 different ATTA Slack Channels with topics such as ATWS Content, Women Leadership, Style Guide, and Random. What is in the Random Channel? Well, again, this is our company culture: It is usually where we place random facts, news, and commentary.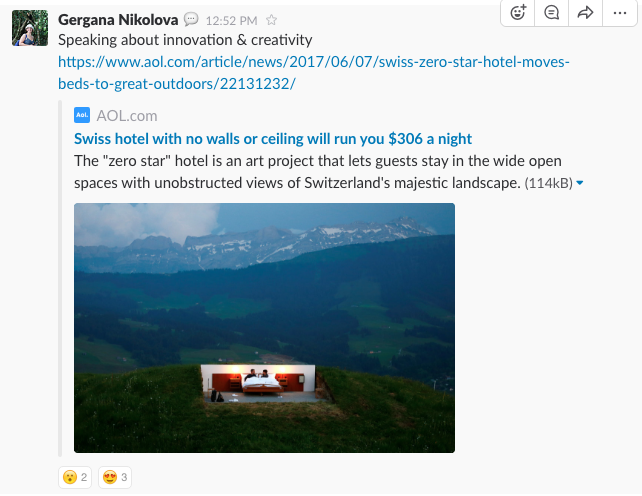 Trust

An important component of a virtual workplace is the flexibility it provides for all team members. Trust is imperative — you must believe in your staff members and know they will get the job done on their hours. The ATTA's team works 24 hours a day because we are located across the world in locations such as Ukraine, Egypt, Sweden, the United States, Hong Kong, and Canada.
Recently we have started tracking project time in an app called Toggl. This helps us gauge our own resource time and effectiveness and is not because we don't trust our staff. We expect our team to be accountable, and the regular meetings we hold help with that.
Jason's Insight: We chose Toggl because it has a simple user experience and can be used in a browser, via an installable app, or on a smartphone. It includes a timer feature that you can start and stop as you work on a project and allows for manual time entries. Plus, it has easy-to-use reports with filtering options to see the exact detail you want, and you can choose to export the data for use in a spreadsheet. We've started with the Starter package, which is $9/user/month and feel that it does most of what we need for now.
A Fluid Workplace
It is critical to have options for meetings. Skype, GoToMeeting, and Slack are our go-to options. We give full-time staff and staff members with heavy meeting loads full access to GoToMeeting so that they can easily do their jobs. We record meetings so team members who can't make the calls can access them later. We take notes and save them with the recordings in Google Drive so they are shared right away with everyone.
Presentation files are shared in the cloud as well and worked on simultaneously among staff. We create Keynote presentations and then upload them; just a few weeks ago, four of us in three different countries worked on a presentation at the same time to get it ready for a meeting. Talk about flexibility and the modern world!
Salesforce connects with Gmail and integrates with Slack. Podio, a project management software we use, integrates with WordPress.
The modern workforce looks for flexibility, transparency, and trust, and a virtual organization needs all of those elements to succeed. As Millennials and the next generation join the workforce, many a laptop on a mountain top may be seen with a spreadsheet in view.