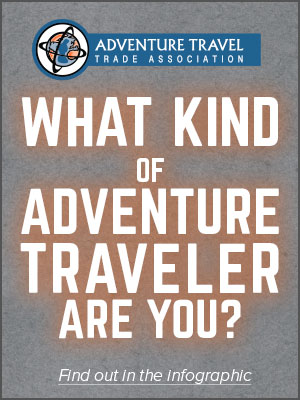 The Adventure Travel Trade Association is releasing an infographic today representing research findings from the 2014 Adventure Pulse report. This first "pulse" profiles U.S. adventure travelers. Future pulse research will look at adventure travelers in other countries or regions.
The U.S. pulse results allowed the ATTA to introduce a new approach to segmenting adventure travelers into "types": Adventure Grazers, Adventurers and Adventure Enthusiasts. Survey questions refined the differences between the types, probing differences in skill level, whether they repeat activities or bounce around, how they understand risk as an element of their experience and the values they hold.
The Adventure Pulse data allows tour operators and travel advisors to go beyond basic gender and age categorizations of clientele to inform their product development and marketing efforts with a more nuanced view of potential clients. For example, instead of just thinking in terms of marketing to men, women or families in different age groups, tour operators can now decide if they are marketing to people who are primarily working through their "bucket list" (Grazers) or people with a preference and skill for a particular sport (Adventurers). Knowing more about some of the dominant motivations and reasons for using – or not using – tour operators will further guide adventure companies in shaping their products and communicating their value.
Learn more about the results at our webinar on November 12
The ATTA believes that "Adventurers" are the sweet spot for our industry: these are people who know they like adventure activities, have some skill and repeatedly engage in the activity. While Grazers are a slightly larger proportion of the U.S. population (24% versus 20% for Adventurers), Adventurers seem to be the most likely to develop a relationship with an adventure company and become a devoted customer. The "to do" item for our industry is to demonstrate our value to these people and persuade more of them to use our services. Currently only 36% of adventure grazers and 37% of adventurers use tour operator services.
ATTA advisor Russell Walters of Northern Outdoors who was instrumental in shaping the survey questions to help develop the segmentation noted, "We have been applying this type of segmentation to our customer base informally for years. Now we have much more precise information to understand the subtle differences between Grazers, Adventurers and Enthusiasts. Using these types as a part of our marketing outreach we will continue to improve our delivery of appropriate product to the appropriate audience – resulting in higher guest satisfaction levels and a more efficient ongoing marketing effort."
Enthusiasts are actually the most likely to use a tour operator: nearly 50% are using the adventure industry's services. Furthermore, the results show that the younger the Enthusiast, the more likely they were to have booked everything through a travel agent of travel advisor.
More than 80% of travelers profiled would recommend their tour operators to family and friends.This is a powerful endorsement especially given that the most influential source of information people cited in preparing for adventure travel trips is family and friends.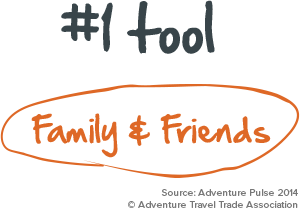 Social media scored low as a tool people used in preparing for a trip, although undoubtedly the the messages found there may be shaping the opinions held by friends and family that in turn carry such weight with adventure travelers in the dreaming and planning phases. The takeaway here for adventure travel tour operators is to empower your guests to market for you to their friends and family! Send them home armed with great photos, memorable stories and incentives to travel with you again and to recommend your company to others.
The Adventure Pulse U.S. data is organized by gender, age, and adventurer type. More in-depth analysis can be provided on any of the following topics:
Basic Demographics: age, origin, household income, gender
Adventure Traveler Motivation
Appetite for Risk and Thrill
Trip Behavior during Dream-Search-Plan-Remember phases
Trip Characteristics (cost, destination, activities, motivations)
Post-Trip (satisfaction and sharing)
Attitudes Towards Brands
If you have a specific question or are interested in further analysis of this dataset, please contact us. ATTA encourages people to form groups to share the cost of additional analysis. Send us your research questions by email to [email protected]. Include "U.S. Adventure Pulse Question" in the subject line.