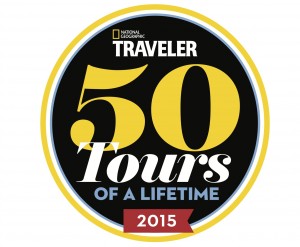 On April 9, 2015, National Geographic Traveler magazine announced its annual Tours of a Lifetime selection, now in its 10th year. The 2015 list features 50 of the world's best guided trips chosen by the editors of National Geographic Traveler. In addition, the editors picked five of their favorite expeditions of a lifetime offered by National Geographic. The list and details about the trips can be viewed in National Geographic Traveler magazine's May 2015 issue and online at http://travel.nationalgeographic.com/travel/tours/.
"This year marks 10 years of our editors selecting the world's best guided tours," said Norie Quintos, acting editor in chief of National Geographic Traveler magazine. "In that time, the types of immersive and experiential trips have only multiplied; tours are going farther and deeper than ever before."
From stalking lion tracks in the Serengeti to kayaking secret coves in Croatia to following the wine trail in the Republic of Georgia, the 50 best guided tours selected this year offer authentic travel experiences that are sure to leave participants engaged and ensconced in culture. The additional five unique tours from the National Geographic Travel family include inspiring expert-led adventures from Australia to Ireland to the Pacific Islands.
The following ATTA members' tours are featured on the list:
AFRICA
"Mountain Biking Safari in Namibia," Namibia – H&I Adventures
"Malawi Service and Safari," Malawi – Elevate Destinations
"Ancient Kingdoms of Sudan," Sudan – Mountain Travel Sobek
"Namibia: Secrets Revealed," Namibia – Africa Adventure Consultants
"Sourcing the Perfect Cup: A Coffee Connoisseur's Tour," – Micato Safaris
"Ibo Island Dhow Safari," Mozambique – CW Safaris
"Algeria Colours," Algeria – Wild Frontiers
"South Africa Ultimate Adventure," South Africa – REI Adventures
ASIA
"Myanmar and Southern China: Places Unexplored," China, Myanmar – Global Basecamps
"Persia Past and Present," Iran – Journeys International
"Gujarat: The Land of Legends, Culture & Crafts," India – Immersion Journeys
"Komodo Snorkeling Expedition," Indonesia – Wilderness Travel
"Kyoto and Beyond by Bike," Japan – Explore!
"Laos With a Heart," Laos – Myths and Mountains
"Wrangel Island: Across the Top of the World," Russia – Heritage Expeditions
"Vietnam's UNESCO Discovery," Vietnam – Audley Travel
EUROPE
"Dalmatian Coast Hiking & Kayaking," Croatia – Boundless Journeys
"Holland and Belgium Bike & Barge Amsterdam," Belgium, The Netherlands – VBT Bicycling & Walking Vacations
"Bike Paths of Lake Garda and Veneto—A Sightseer Tour," Italy – ExperiencePlus! Bicycle Tours
"Compelling Corsica—Sea Kayaking and Mountain Hiking," France  – ROW Adventures
"Blazing Saddles Family Adventure," Portugal – KE Adventure Travel
"Wildlife for Beginners," Scotland – Speyside Wildlife
"Switzerland E-biking," Switzerland – Butterfield & Robinson
OCEANIA & THE PACIFIC ISLANDS
"The 'Other' Sydney, Rock & Reef," Australia – EverGreen Escapes – Cascadia & International
"Ultimate South Island Adventure: Rimu,'" New Zealand – Active Adventures
NORTH AMERICA
"Vail to Aspen Interconnect—Summer/Fall," Colorado – Paragon Guides
"Mighty Saint Lawrence," Canada – Adventure Canada
"Day of the Dead: Michoacán," Mexico – Tia Stephanie Tours
"Portland to Missoula," Oregon, Washington, Idaho, Montana – Trek Travel
"Cuba Family Vacation: Cultural Exchange," Cuba – Classic Journeys
CENTRAL & SOUTH AMERICA
"Argentina Vision and Vine," Argentina – Ciclismo Classico
"Undiscovered Brazil," Brazil  – Adventure Life
"Bogotá to Santander Biking Adventure," Colombia – Colombia Adventure
"Amazon Kayaking Trip," Ecuador – Tofino Expeditons, Ltd.
Contributing members are responsible for the accuracy of content contributed to the Member News section of AdventureTravelNews.