Award-Winning Company Known for Delivering Adventure-by-Day, Comfort-by-Night, Marks Business Milestone with Full Company Rebrand and Once-in-a-Lifetime Package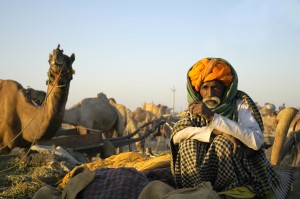 Celebrating its 30th anniversary in 2017, ATJ (Asia Transpacific Journeys) is marking the occasion with a once-in-a-lifetime package that allows travelers to enjoy 30 remarkable experiences from the Asia Pacific region, as selected by the company's expert Travel Specialists. ATJ is also recognizing the milestone with a full company rebrand, including a new logo, website and shortened name, ATJ, to better showcase the brand's evolution over the past three decades.
This milestone comes on the heels of Asia Transpacific Journeys receiving multiple awards over the course of the past year, including a Magellan Awards from Travel Weekly and an appearance on Travel + Leisure's A-List. ATJ was the only company on the A-List with three Travel Specialists recognized as the world's most knowledgeable, creative and enthusiastic travel professionals.
Asia Transpacific Journeys is a U.S.-based tour operator specializing in custom journeys and small group trips to the Asia-Pacific region, in locations from Japan and Thailand, to Sri Lanka and beyond. Based in Boulder, Colo., ATJ's team of Travel Specialists work with partners in every corner of Asia and The Pacificto create personalized, memorable and immersive travel experiences for clients.
"Beyond looking internally and updating our branding to better reflect who we are today as a company, we wanted to mark this milestone in a meaningful way for our travelers," said Kirsten Louy-Nasty, CEO of Asia Transpacific Journeys. "We worked with our Travel Specialists and past travelers to create this bucket-list package that includes some of the most memorable experiences we've orchestrated over the past 30 years."
The package, "30 Years, 30 Memories," is a 90-day excursion featuring curated experiences, many of which are exclusive to ATJ, across 15 countries throughout the Asia and the Pacific. This package starts at $90,500 per person, including meals, private guides, activities and lodging at four- and five-star hotels, but other custom trips with Asia Pacific Journeys start as low as $400 per person, per day.  Highlights of this memorable journey include:
Experiencing traditional Mongolian Naadam Games in the Gobi Dessert, featuring horseracing, archery and lasso trials, while mingling with local, nomadic families.
Hiking through the lush countryside and visiting remote villages and families in Bhutan, a country to which only a select number of tourists are allowed to enter each year.
Buying, and then donating, a camel in Rajasthan, India at the Pushkar Camel Fair, complete with mystics, priests and Ferris wheels.
Going on a private leopard safari in Sri Lanka at Wilapattu National Park, followed by glamping in an intimate safari tent. Guided by a naturalist, you'll learn how to track leopards to view them in their natural habitat.
Visiting a unique Burmese beer hall and learn all about Burma's complex cuisine, a mix of Thai, Indian and Chinese flavors, punctuated with ample fresh produce. Be sure to sample the laphet, a fermented tea-leaf condiment.
Escaping the crowds at Angkor Wat and sleeping beside an unexplored Angkorian temple in Cambodia. Lodging is provided in a luxury safari-style tent on temple grounds, and includes an evening feast of local specialties and traditional live music, all set amongst the ruins.
Dining like royalty, with royalty, in Bali. Malaika, a Balinese princess, will welcome you to her villa, where you as her honored dinner guest for the evening.
Experiencing a psychedelic, smorgasbord of outlandish, ritualized ancient theatre paraded to vocal accompaniment at a traditional Sing-Sing in Papua New Guinea, attended by tribal peoples gathered from all over the country.
"Most importantly, throughout all of these experiences, I urge travelers to expect the unexpected," said Tom Lastick, ATJ Travel Specialist. "My best experiences in Asia tend to be unscripted. For instance, being out and about touring when a downpour moves in and you end up ducking into a little tea-shop to stay dry and strike up a conversation with the locals. Then after the rain stops, you watch all the kids come out and play in the flooded streets. To me, this is what travel to Asia is all about—the friendliness and warmth of the people, and the unexpected personal encounters."
A percentage of proceeds from each package sold will be donated to the ATJ Foundation to directly benefit its causes. The ATJ Foundation was founded in 1998 when ATJ founder and president, Marilyn Downing Staff, adopted her son from a Thai orphanage, forging a lasting connection with the region. Today, the Foundation aims to foster philanthropic stewardship throughout Asia and the Pacific in return for the years of kindness and generosity extended by people of these regions' to the company and its travelers. One hundred percent of donations directly support ATJ Foundation initiatives, and all administrative fees are donated by ATJ. The foundation also supports a General Emergency Fund, by which it can provide real-time assistance to communities following disasters such as the 2004 Indian Ocean tsunami, the recent earthquakes in Nepal and flooding in Myanmar.
"Our team unequivocally believes that the success of ATJ over the past three decades is largely due to the relationships we have created with our dedicated on-the-ground partners, and the kindness extended by the people of each community we visit," said Kirsten Louy-Nasty. "As such, giving back to these various communities and cultures is a core tenant of our organization."
Contributing members are responsible for the accuracy of content contributed to the Member News section of AdventureTravelNews.