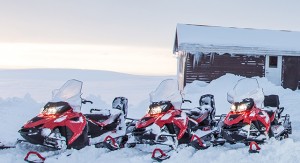 Arctic Adventures and Snowmobile.is have reached an agreement concerning Arctic Adventures purchase of all shares of Snowmobile.is. The two companies have been working closely together through the years as Snowmobile.is has been operating all snowmobile tours for Arctic Adventures. The merger of these two companies will bring opportunities of a wider selection of tours as well as the synergy will open up possibilities in many aspects of the company such as marketing. All employees of Snowmobile.is including the two former owners, Gylfi Sævarsson and Nikulás Þorvarðarson, will become a part of the Arctic adventures staff. Snowmobile.is' operation will be unchanged to start with, but they currently own and operate 40 snowmobiles on Langjökull Glacier as well as two "super trucks" for 9 and 16 passengers.
Arctic Adventures offers a wide variety of activity tours from its base camps in Reykjavik, Sólheimajökull and Skaftafell – glacier hikes, northern light trips, snorkeling, rafting and diverse trekking tours, to name a few. With this addition, the number of Arctic Adventures staff will become 70 during the winter season but up to 150 in the summer. Arctic Adventures turnover in 2015 is expected to be close to 2 billion ISK. Arctic Adventures changed ownership earlier this year when Jón Þór Gunnarsson, Styrmir Bragason, Halldór Hafsteinsson and Davíð Másson took over the company and following that, some long- established companies became a part of the Arctic Adventure family; including Trek Iceland, Glacier Guides, Arctic Rafting, and Dive Silfra.
Contributing members are responsible for the accuracy of content contributed to the Member News section of AdventureTravelNews.