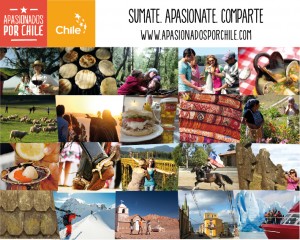 An innovative project to promote Chile as an international tourism destination has been launched by the Undersecretary for Tourism in partnership with SERNATUR and Turismo Chile. It is "Apasionados por Chile" (Passionate Fans of Chile), a platform that aims to generate a network of Chileans to help promote the country among their friends abroad.
"Apasionados por Chile" is being run via their website, which delivers content that users can share on their social networks. This content, grouped in various categories such as chilenismos (Chilean idioms and slang), culture, landscapes and people, among others, are updated weekly with new material for the Apasionados to share.
The "Apasionados" with the most interactions via the web receive recognition through virtual "medals" and earn points that can be redeemed for great prizes. In addition, the project will enable "Apasionados" to create their own content and share it with other users.
Andrea Wolleter, general manager of Turismo Chile, said: "We want Chileans to be proud of their country and want them to recommend it to all their foreign friends. We will provide them with the tools so that they can help the content go viral through social networks and, thus, can convince their friends to visit Chile."
INCOMING TOURISM FIGURES
Last year marked a historical record for inbound tourism in our country, as Chile showed the best performance in the region and grew 13.5% on 2011 figures. 3.5 million foreign tourists arrived in Chile in 2012, generating income of US $2,109.9 million, which added to the revenues generated by day trippers and international transport gave a total of US $2,559.5 million.
STEP BY STEP GUIDE TO BECOMING AN APASIONADO
To become an "Apasionado" is very simple:
Enter the www.apasionadosporchile.com website
Click the "Register with Facebook" button
If you don't have any foreign friends on Facebook, you can invite your friends to the website so that more Chileans join "Apasionados por Chile".
If you have foreign friends on Facebook, you can complete the registration process and you're ready to go! You'll find content about Chile to share with your social networks and thus foreign friends will get to know the beauty of our country and want to visit. Now you're an "Apasionado por Chile".
Contributing members are responsible for the accuracy of content contributed to the Member News section of AdventureTravelNews.