SEATTLE – Named one of the world's top 10 great trips "you've never heard of" by the Wall Street Journal, American Safari Cruises' wine and culinary theme luxury yacht sailings on the Columbia and Snake rivers will feature select sommeliers, guest chefs and culinary experts who will bring the emerging Washington state wine country and Pacific Northwest cuisine into focus.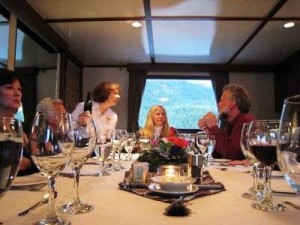 The eight-day, seven-night cruises between Portland, Ore., and Lewiston, Idaho, are aboard the company's 145-foot, 36-guest flagship Safari Explorer on Oct. 2 and 9 and Nov. 6 and 13. The itinerary includes visits to five wineries in three appellations, experts onboard for the entire cruise, onboard wine tastings and discussions and cooking demonstrations.
Scheduled onboard experts include:
Oct. 2: Sommelier David LeClaire was the wine director at Seattle's Alexis Hotel and Library Bistro for 10 years and is the founder of the Seattle Uncorked and Portland Uncorked wine clubs; Cordon Bleu/Paris-trained Chef Kirsten Dixon, who won the 2004 Best Female Chef USA for her Winterlake Lodge cookbook at the Gourmand International Cookbook Awards.
Oct. 9: Sommelier Kelly Barry, formerly of the Napa Valley, is a member of the Seattle Wine Society board and hosts a wine blog at the Seattle Wine Examiner; prodigious writer Kris Wetherbee authored farmers' markets cookbooks in Washington and Oregon and is a former certified organic market grower.
Nov. 6: "Wine Trails of Washington" author Steve Roberts has explored more than 200 Washington wineries to discover why the state is an emerging destination for wine-tour vacations; a Pacific Northwest chef who specializes in seafood will be onboard.
Nov. 13: Vintners David and Cindy Lawson, owners of Covington Cellars in Woodinville, Wash., rely on grapes from the regions visited on the cruise; Cindy will share her culinary background in wine and food pairing.
Also included on the cruise are a cave luncheon, complimentary massage from the onboard massage therapist, yoga sessions, a jet-boat ride into Hells Canyon, and eight transits through locks and dams on the rivers, guided hikes, kayaking and skiff excursions.
Tastings are scheduled at L'Ecole No. 41 Winery, situated in a 1915 schoolhouse; Northstar Winery, producer of a world-class merlot; Hedges Family Estate Winery, which incorporates modern wine making with old-world traditions; Terra Blanca Winery and Estate Vineyard, site of the cave luncheon; and Maryhill Winery, known for its syrah and sangiovese.
The 145-foot, 36-guest Safari Explorer is especially suited for wine-country cruises. The yacht's custom-built onboard wine library is an appropriate setting for guest sommeliers' tastings and discussions. The vessel also offers an on-deck hot tub, view sauna, exercise equipment, exceptional cuisine served at a single sitting and complimentary premium spirits, wines and microbrews. The relaxing salon features a large-screen TV, piano, elegant bar area and oversized view windows.
The guest-to-crew ratio is 2 to 1.
Staterooms have DVD players, Tempur-pedic mattresses and private bathrooms with heated floors (some with Jacuzzi tubs). There are two suites with a small balcony that are suitable for up to three persons, and all staterooms are outside with view windows.
Cost of the special wine and culinary cruise begins at $4,895 per person double occupancy. The yacht may be fully chartered for $193,395 for up to 40 persons, including all food, beverages, crew and fuel.
American Safari Cruises pioneered yacht cruising in Alaska 13 years ago and in 2011 will launch inter-island Hawaii cruises to Molokai, Lanai, Maui and the Big Island. The company is owned by InnerSea Discoveries based in Seattle, Wash. Information: 888-862-8881, www.americansafaricruises.com or [email protected]