Do you remember your first bike? Your mum or dad running behind you, pushing, until you could stay up on your own?
Do you remember the freedom your bike brought? The friendships it allowed you to make, as you explored your neighbourhood, explored your boundaries?
And can you remember when your bike was broken. How your whole world came to a halt, when there was a problem you could not fix? How you watched your friends head off to play, leaving you stuck, alone, no longer in the club?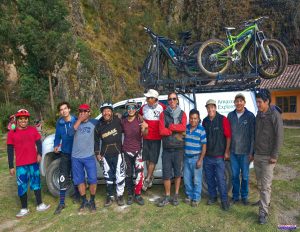 High above Ollantaytambo, near Cusco, Peru, it is no different today. Kids play happily on their bikes, while others look wistfully on, left behind, because their bike is broken, because they don't have the means to mend it.
Last Saturday, 15 of us set out to do something about it. We pulled into the school at Huilloc, to find 35 kids eagerly waiting with their broken bikes. And when I say broken, it had to be seen to be believed.
Bikes with no seats, bikes with no brakes, bikes with chains rusted to a halt, bikes way too big and bikes way too small. Bikes with no tires, bikes with no wheels, bikes with wheels so buckled they would not turn and bikes that were literally held together by string.
Amazingly, some of these bikes were still being ridden daily. Despite their faults. When you walk up to 2 hours each way to school, even rolling downhill on a broken bike for a few hundred metres, saves you time.
Three years ago, news reached us of the death of a local child, who had fallen from his bike because he could not stop. Because his brake blocks had worn away. It is hard enough to ride a bike with no brakes on the flat beaches of California, but here at 12,000 feet ( 3600 metres) in the Andes, it is dangerous. Every way you go is either steeply up or steeply down.
Miki, our head of biking and head chef, decided to do something about it. He rounded up a few friends, asked a few companies for donations, and arranged a day to go and repair bikes for free. Last Saturday was the third year he organized this and Amazonas Explorer was again delighted to help.
Miki has been working with the communities here for 7 years, helping them to improve and sign their trails, for bikers and hikers, to bring income through tourism. The trust they have in him is evident for all to see. Together they got government funding for bikes for the schools. Huilloc school now has 9 bikes, which they loan to the kids who live furthest away on a yearly basis.
They even allowed him to hold an enduro mountain bike race here, which became part of the National Championships and brought the elite bikers of Peru to discover the fantastic mix of trails and culture that exist here.
How can I support this project?
The project is ongoing. The more parts we have, the more bikes we can mend. The area is filled with children with broken bikes that need mending.
Used parts, new parts, or simply money to buy parts all helps. Remember most bikers replace parts long before they are worn out- send them to us and we can extend their useful life.
If you would like to get involved, contact me, or contact Miki directly.
If you are still in doubt, take a look at the smiles on the faces of these kids, and see how much it means to them, to have their bikes back, to have their freedom back.
Thanks to all those who helped:
Amazonas Explorer, Puma Bike, Maestro Carlitos, Dicar Autosport, Cotinga Transporte, Awkis, Holy Trails, Trans Andes, Apumayo, Explora, Muñay cereal bars, Andrew Bear Photography, the cyclists that gave up their time to mend these bikes and above all, Miki, who had the courage to make a difference.
Contributing members are responsible for the accuracy of content contributed to the Member News section of AdventureTravelNews.