The extraordinary creates epics. That's what Western River Expeditions hopes to see this season when it comes to whitewater rafting.
Why?
Prospects are excellent for a robust whitewater runoff season for major rafting rivers in the West. A lineup that includes the Colorado River and Columbia River Basins. This is thanks to near-record snow pack in the mountains. As of late February, the snow pack measured 151 percent of the historic average.
"If spring temperatures are normal or cooler than average, the mountains will preserve a lot of this massive snow pack moisture until normal run-off time in May through mid-June. If the spring is wet, then it will be an epic high water year. If it's dry, I'm confident that it will at least be average and average is awesome!" said Brian Merrill, CEO of Western River Expeditions.
This news is music to the ears of avid rafters who love high water rafting thrills but who also appreciate a river's speed that translates to more time for side canyon explorations and social activities in camp.
The snow pack news is also a call to action at Western River Expeditions that is gearing up with equipment and guide training for a high water year.
"As always, what happens between now and the first of May will make all the difference. However, if you look at all the years that were at 130 percent of normal or better at this point in the year, they all turned out to be good water years. There was only one other year, 1997, that showed a higher water content at this point, and it was an epic high water year," Merrill added. That year the snowpack was at 175 percent of average. Peak runoff on 6/10/97 was 70,800 cfs (average is 49,753 cfs-cubic feet per second).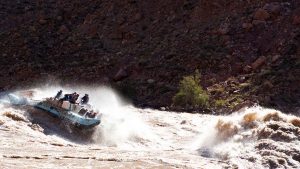 The data Merrill's team works with for the Colorado River Basin impacts the company's Cataract and Westwater canyons and Green River trips. Based on similar snow pack reports, predictions are also favorable for Idaho's popular rafting rivers, the Salmon and the Snake.
The high water gives Western River Expeditions greater flexibility to match up rafting experience with the level of white water. And it can switch out the craft it uses depending on the water's intensity. For the beginning of this season Merrill expects that the J Rig, the largest craft in their fleet (offering greater stability than smaller oar and paddle rafts), would be the vessel of choice for Cataract Canyon.
Just south of Moab, UT, where the Green and Colorado Rivers meet in a majestic setting called "The Confluence," Cataract Canyon begins. Bolstered by the Green River, the Colorado River doubles its force, and carves a deep 100-mile-long chasm through the heart of Canyonlands National Park. Here guests experience the thrill of class III-V whitewater.
Cataract Canyon 4-day trip mixes running the rapids with off-river hikes to ancient Native American ruins and pictographs. Guests conclude this adventure with a stunning flight over Canyonlands National Park on the return to Moab. The trip covers 100 river miles with the pleasures of camping under the stars and dining on chef-prepared meals adding extra splashes for the memory bank. The minimum age is 12 during high water (May and June) dropping to 10 (July and August).
Other rafting trips on the Colorado and neighboring Green Rivers in Utah are also expected to have higher than average water levels this spring and summer. They include Desolation Canyon on the Green River and Westwater Canyon on the Colorado River just upriver from Cataract Canyon. Trips on Idaho rivers include
Western River Expeditions' flagship river trip is the Grand Canyon.  Because the flow is controlled by the Glen Canyon Dam, spring and summer fluctuations based on snow pack upriver aren't usually a factor. This means that rafters experience steadier, predictable water levels all season-long. While the 2017 season is nearly sold out, the company is now accepting reservations for 2018 on its Grand Canyon trips:
Contributing members are responsible for the accuracy of content contributed to the Member News section of AdventureTravelNews.