Midnight Son Tours is committed to providing the highest value, deeply authentic, world-class adventure itineraries for the discerning traveler. We endeavor to combine an in-depth sense of place and time, a call to social responsibility, and thrilling experiences for our valued clients.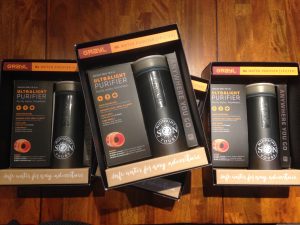 This is why MST has joined the ATTA initiative against single-use plastics and is working with GRAYL® to promote safe drinking water practices and to help reduce plastic water bottle waste in Alaska and on our shared planet. The GRAYL Ultralight purifier bottle enables travelers to make clean, great tasting water free of virus, bacteria, protozoa, sediment, chemicals, and heavy metals from virtually any fresh water source.
"By choosing GRAYL, we aim to educate our clients and our community on the importance of curbing single-use plastic water through the simple use of the purifier bottles," said Jake Finifrock, owner and operator of Midnight Son Tours. "We value integrity in business practices, have great respect for the people with whom we interface, and care for the space we inhabit. As leaders in Alaskan tourism, we want to promote a sustainable and lasting form of adventure travel that strives to maximize benefit for all involved."
MST's first trip that will be completely plastic water bottle-free is their new all-women's adventure trip in July 2018. Midnight Son Tours has partnered with Women's Adventure Travels for this luxury 6-night, 7-day Alaskan adventure designed for the adventure-seeking, luxury-traveling, female professionals who long to visit Alaska and experience it in their own unique way. The trip will highlight two powerhouse Alaskan women [Cindy Abbott & Janine Oros Amon] who, between the two of them, have summitted Mt. Everest, Mt. Denali, completed the Iditarod [Last Great Race] and sailed around the world. Need we say more?
During the trip, the women will commit to foregoing throwaway plastic bottles and instead use their GRAYL purifiers. This action will eliminate up to 300 single-use plastic bottles per person over the course of the trip and beyond. In addition to participating in this bold sustainability initiative, the clients will also have the chance to interact with other professional, adventurous women, learn about Alaska from MST's expert guides and through excursions, and get to know two women who truly embody Alaskan adventure and powerful female leadership.
For more information, email [email protected].
Contributing members are responsible for the accuracy of content contributed to the Member News section of AdventureTravelNews.