New York, NY – APG – Air Promotion Group, the U.S. representative for Air Namibia is proud to announce that Air Namibia has incorporated two brand new Airbus A330-200 aircraft into its fleet and with it comes a major upgrade of the airline's long haul inflight product. Air Namibia is due to take delivery of the first of the two brand new Airbus A330-200 aircraft later this week. The second A330-200 is expected to enter the national air carrier's fleet in November 2013.
The new aircraft provides a more spacious and improved cabin interior with added headroom and shoulder room and an enhanced illumination throughout the plane. The A330-200 also offers 1800 degree completely lie-flat bed seats in business class and Individual Flight Entertainment (IFE) screens at every seat in business and economy class.  Everything on the new aircraft is designed around the passenger's well-being, while the low noise and emissions levels will make flying greener and quieter.
Paulus Homateni Nakawa, the Head of Corporate Communications for Air Namibia, is positive that the airline's passengers will appreciate the new aircraft regardless if they are flying in business class or economy. "Across the entire cabin, both in business and in economy class, the A330-200 offers individual personal video screens for each seat, with 'video on demand'. The video and audio on-demand concept means that the user has ability to pause, rewind, fast forward, or skip to any point in the movie. In short, while on board, our passengers will be able to work, eat, play, relax and sleep all in world-class comfort and style".
Business Class
The A330 aircraft offers a business class cabin with 30 full 1800 lie-flat bed seats in a 2 – 2 – 2 configuration and  that are completely horizontal when reclined. The flat bed seats always receive high accolades for comfort and were produced using "ContourAura Lite", which insures that the seats were engineered for maximum passenger comfort through its modular design. The Unique S-shaped outer arms yield significant personal space increases allowing for a larger center console providing a larger area for work or play.
The business class seat on our A330 comes with the following features;
IFE screen in back of seat in front, with both video and audio on demand
Rising armrests that form individual privacy screens
Shoe stowage and literature pocket
Individual PC power port and headphone jack
In-seat reading light
Economy Class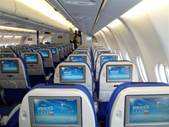 The A330-200 comes with 214 economy class seats in an 8 across 2–4–2 configuration, meaning that passengers are never more than one seat away from an aisle. Each seat in economy now features added space and an individual flight entertainment screen that gives passengers more choices in how to spend time on the long flights. The seat pitch averages 31 inches, which is standard in the region and offers sufficient legroom. The A330-200 provides preferred comfort standard in the economy cabin.
To book your Air Namibia, US travel agents can ticket through their GDS or contact APG directly for bookings.
Contributing members are responsible for the accuracy of content contributed to the Member News section of AdventureTravelNews.