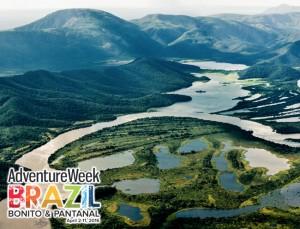 (SEATTLE) December 15, 2015 – The Adventure Travel Trade Association (ATTA; www.adventuretravel.biz) has partnered with destination partners in Brazil to create and offer AdventureWeek Brazil in Bonito & Pantanal, a ten-day familiarization (FAM) journey through Western Brazil, home of the world's largest floodplain. North American- and European-based operators and travel advisors, as well as journalists and media specializing in adventure travel tour offerings and stories are invited to participate from April 6 – 15, 2016 (please note these are new dates from the original announcement).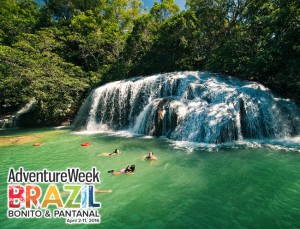 AdventureWeek Brazil will introduce participants to two distinct regions in Western Brazil considered the best of the country's ecotourism offerings. Both Bonito and Pantanal feature unique landscapes and ecosystems with the opportunity to encounter endemic wetland wildlife like giant river otters, capybaras and jaguars, and experience the local cowboy culture. Activities will include snorkeling, rappelling, caving, horseback riding, hiking and biking. The Pantanal portion of the itinerary will be based on a small expedition river boat.
"The wetlands of Western Brazil are one of the world's natural wonders. We've put together the best itinerary for maximum wildlife viewing, cultural encounters and adventure activities, so that international buyers and media will have plenty of material to sell to clients back in their home countries," said Antonio del Rosal, ATTA's Executive Director for Latin America. "It's a magical part of South America that needs to be on more adventure travelers' radars."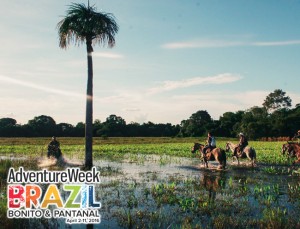 The AdventureWeek will host up to 20 participants. A core component of the trip is a chance for international buyers to meet with local operators during two "Marketplace" sessions — one in each region — to both create partnerships and potential new itineraries as well as provide feedback to the Brazilian operators on what international clients will be looking for.
"We are looking forward to hosting AdventureWeek Brazil in Bonito, which is surely one of the best places in all of Brazil for both ecotourism and adventure activities," said Juliane Ferreira Salvadori, Bonito's Tourism Secretary. "This part of Brazil combined with the Pantanal is a special place in all of the world. We hope that our international guests will have a magical experience that they can later show their clients."
"The grandeur of nature here translates to amazing experiences," added Hélènemarie Fernandes, Director-President of Corumbá Tourism Fourndation, "which will certainly contribute to good business opportunities to promote adventure tourism and ecotourism in the Pantanal."
AdventureWeek Brazil is a partnership between the ATTA, Embratur, the City of Bonito, the City of Corumbá and Fundação de Turismo do Mato Grosso do Sul. Interested buyers and media are encouraged to apply now to participate next April.
About Adventure Travel Trade Association
Established in 1990, the Adventure Travel Trade Association (ATTA) serves over 1,000 members in 90 countries worldwide. Members predominantly include tour operators, tourism boards, specialty agents and accommodations with a vested interest in the sustainable development of adventure tourism. The ATTA delivers solutions and connections that propel members towards their business goals and the industry toward a responsible and profitable future. Through its regional AdventureConnect events and annual Adventure Travel World Summit trade conference, the ATTA excels in professional learning, networking and partnering services. With expertise in research, education, adventure travel industry news and promotion, members of the ATTA receive competitive opportunities that help establish them as leaders in adventure tourism.
For more information:
To connect with us: