AdventureSmith Explorations, the world's leading purveyor of small and expedition ship cruises, is celebrating its 15th year with an expanded staff and a new office in Truckee, CA.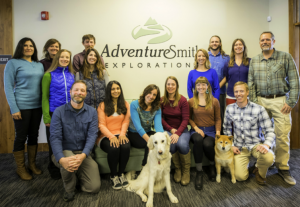 Said Todd Smith, founder/owner, "2003 was particularly auspicious as it was the year I founded AdventureSmith Explorations. As a naturalist guide in Alaska, I saw the power of wilderness-focused adventure to transform travelers into advocates for the environment. I envisioned small ships as floating base camps accessing the wild in a leave-no-trace manner while providing all the comforts of the finest off-the-grid hotel."
The spring 2018 move from Tahoe City to a purchased office location in Truckee doubled the square footage of office space for the growing company that now numbers 15 staff. Fittingly, Smith observed, Truckee's town motto is "Basecamp for a big life."
To help celebrate AdventureSmith Explorations' success and show off their new office, the company invites all past clients, neighbors, future travelers, local travel agents and the travel media to join them for an Open House. Please RSVP on Facebook invite or through email at: [email protected]. The details:
When: Friday, June 1, 2018 from 4:00-7:00 pm
Where: 40169 Truckee Airport Road, Suite #201, Truckee, CA 96161
While AdventureSmith Explorations has flown the world over in search of the most alluring small ship experiences, it has also helped fly Smith into some equally exciting realms, including onto the board of IGTOA (The International Galapagos Tour Operators Association) and onto Condé Nast Traveler's Annual Top Travel Specialists list. The company is also cited in Sunset magazine in an April 2018 article (now on the stands) on travel industry change-makers in the fight against climate change.
Sustainability is in the company's DNA. In 2005, Smith introduced the industry's first Carbon-Free Cruising program to offset carbon emissions created as a result of being an AdventureSmith cruise passenger. It continues an ongoing environmental commitment by providing its travelers opportunities to have a meaningful connection with each place visited and its people and cultures. The company link clients to a network of grassroots and non-profit partners. Nearly 90 percent of its passengers opt to make meaningful contributions, conveniently while booking through AdventureSmith Explorations. Through its careful choice of partners and operators, the company favors small ships, yachts and lodges that
are rooted in a region's environment.
contribute to the positive development of the local community.
maintain strict leave-no-trace and sustainable operating practices.
For details on all of AdventureSmith's small ship cruises worldwide, visit www.adventuresmithexplorations.com.
Contributing members are responsible for the accuracy of content contributed to the Member News section of AdventureTravelNews.