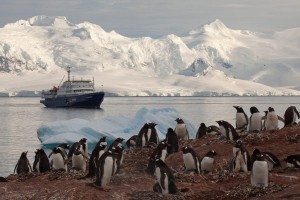 TAHOE CITY, CA – The active travel company that secures matches between adventure-seeking clients and a treasure trove of small, expedition ships, AdventureSmith Explorations, announces a new, one-of-a-kind sea/land program that engages active travelers in off-vessel activities including optional tenting while cruising Antarctica.
The program, entitled Antarctic Peninsula Basecamp Cruise offers two departures in 2012 and one in 2013: Feb.27-Mar. 9, 2012, Nov. 22-Dec. 3, 2012, and Feb. 25-Mar. 9, 2013. Per person double rates are from $8,350 in 2012 and $8,790 in 2013.
This first trip of its kind in Antarctica is modeled after successful basecamp adventure cruises in Alaska. The recently refurbished, 110-passenger motor vessel M/V Plancius will anchor for two or three days each at diverse locations to serve as a comfortable hub that allows more time than usual for such off-vessel activities as hiking, snowshoeing, glacier walking/light mountaineering, kayaking, zodiac excursions, overnight camping at tented  base camps, photography workshops and even scuba diving (extra fee). See:
http://www.adventuresmithexplorations.com/itinerarydetails.php/advid/170.
"The all-inclusive cruise with land activities and optional shore camping," explains Todd Smith, AdventureSmith Explorations' founder, "responds to clients who have said they wanted more shore time on their Antarctic cruise."
"Simply put, this trip keeps sea days as short as possible in order to spend more time ashore," he said. A strict "leave no trace" ethic will be the mantra for both basecamp and on-board programs.
The M/V Plancius plies the waters of the Antarctic Peninsula, a 500-mile-long mountain chain with peaks rising to over 9,000 feet, and numerous off-lying islands.
"Visitors are easily overcome by sensory overload by the huge number of icebergs, glaciers, high mountains and the abundant and easily observable wildlife," Smith said.
The adventure begins in Ushuaia, Tierra del Fuego, Argentina, the southernmost city in the world. While crossing the Drake Passage varieties of albatrosses, cape pigeons, southern fulmars, and petrels are observed. Following the first sightings of icebergs, a protected island becomes the first multi-activity base camp. In this alpine environment there opportunities to scout the region on foot, zodiac and kayak, weather conditions permitting, and visit a British research station and post office. The cruise then follows the spectacular Lemaire Channel to Pleneau and Petermann Islands to witness Adelie Penguins, Blue-eyed Shags and possibly Humpback, Minke and Fin whales.
Hikers, mountaineers and photographers (there will be photography classes also included) will have the option to traverse other landscapes encompassing scientific stations with modern Antarcticans working on the White Continent and a crew at the Ukrainian Vernadsky Station. When cruising to Paradise Bay, with its myriad icebergs and deep cut fjords, zodiacs and kayaks are available.
Camping, including tented and open air, is optional, as some guests may prefer to remain on board. For those braving the elements, provided gear and field equipment include tents or wind and waterproof bivouac bags (lightweight alternative to a tent system). Guests are outfitted with mattresses and polar sleeping bags. 
Contributing members are responsible for the accuracy of content contributed to the Member News section of AdventureTravelNews.