By Christina Beckmann
Director, Research and AdventureEDU
Guides are perhaps a tour operator's most important resource. They are on the front lines with guests during a trip, and bear responsibility not only for guest safety, but also guest learning and enjoyment.  Guides also perform a valuable marketing service for companies, differentiating one adventure tour operator's services from another by creating the memorable experiences and personal connections that inspire guests to return to travel with the same company repeatedly, even as the destinations they visit may vary. Adventure travel guiding is multi-faceted, complex work, drawing on interpersonal skills, technical skills and local knowledge.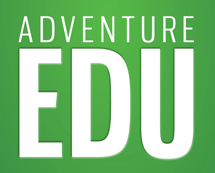 As evidence mounts for the positive role tourism can play in driving economic development – the WTTC recently observed that travel and tourism generated 1 in 11 of the world's total jobs – specialized forms of tourism such as adventure tourism, dominated by small businesses working in rural areas and wilderness environments, is earning attention as a means of economic development with the potential to benefit both the environment and communities.
Increased focus on the adventure industry in turn brings increased scrutiny on the quality of the services provided by adventure travel tour operators and their guides.
Note: the  experiences of countries such as New Zealand and Brazil, which have started down this path already, provide useful examples of how the issue of adventure travel standards and guide certifications can be approached by national tourism ministries:
New Zealand's government-led safety review of adventure operators
Brazil's Safe Adventure Program, an initiative of the Ministry of Tourism in partnership with Sebrae, an organization dedicated to small business empowerment and ABETA, Brazil's adventure travel tourism association
Given the central role played by adventure travel guides in delivering experiences that are safe for people, wildlife and the environment as well as enjoyable and illuminating for guests, some countries are now embarking on national programs to create standards for adventure travel company performance and certification programs for adventure guides. While individual guide training programs of various types have been in existence for decades, organization of the sector at the country level has only recently begun, with national tourism ministries exploring how best to encourage sector development and regulate the services offered by companies and independent guides.
With its mission to grow and professionalize the adventure travel industry, the ATTA is currently exploring how it might best support destinations seeking to improve guide services and ensure that local operators provide services which meet performance standards for safe and rewarding guided experiences.
Although numerous standards exist to prescribe how to safely lead various types of adventure activities – for example the AMGA certification for alpine and rock guides, or the International Rafting Federation's certification for whitewater rafting guides – a globally recognized standard describing the many requirements of an excellent adventure travel guide does not yet exist.  As all those active in the adventure industry know, to be an adventure travel guide requires a more expansive set of skills than the purely technical. Additional considerations for adventure guides include their ability to "interpret" local surroundings for guests, for example sharing cultural, historical and geological information; their ability to facilitate challenging group dynamics; their ability to guide people responsibly through sensitive wilderness environments without leaving a trace; and of course, their ability to use their technical skills to provide for the safety of their guests as they engage in adventurous activities.
As a first step to defining its approach for supporting global efforts in the area of guide training, the ATTA has undertaken a review of guide training programs around the world. The ATTA is researching stand-alone guide training programs as well as those offered by successful adventure travel tour operators or universities.
Expected outcomes of the review include:
An understanding of the minimum standard for adventure travel guides, irrespective of the adventure sport they are leading
An inventory of leading guide training programs around the world
A set of criteria for evaluating the quality of available guide training programs
Eventually, the ATTA may select a set of partners with whom it can work to help provide best-in-class guide training services where it is needed.
If you have information about guide training programs or would like to share an experience or comment relevant to this subject please send an email to [email protected]. Due to the volume of correspondence we receive, it is not possible to respond to every message.