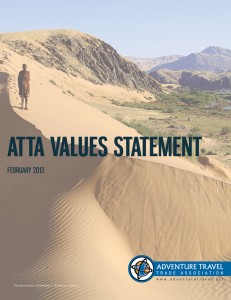 Seattle, WA. – Setting precedent for the global adventure tourism sector, the Adventure Travel Trade Association (ATTA) today has released a Values Statement — a new prerequisite of membership in the near 900-member global community representing more than 80 nations — to ensure members of its community put effort towards nurturing, protecting and professionalizing sustainable development of the adventure travel industry.
As a trade association made up of travel organizations including tour operators, destinations, travel agents, accommodations and more, committing to these values motivates members to move their businesses towards performing responsibly and considering the whole of their actions in the global community.
"Our newly established shared values were several years in the making and were formed through a collaborative process between the ATTA team, advisory board, our members and input from our partners at the UNWTO," said ATTA President Mr. Shannon Stowell. "As adventure tourism faces steep growth in the coming years, it is critical that we establish, commit to and act upon what we believe are the key values of our organization and our members as a whole. How we conduct ourselves will set the highest standards of responsibility, of care-taking of the people and places upon which our industry depends."
With this announcement, ATTA members must now agree to the Values Statement prior to membership confirmation or renewal. After last week's private announcement, more than 100 members voluntarily signed the Values. In signing, ATTA members state that they too will strive and move toward these values (in brief):
1) Tourism Ethics – The ATTA affirms and agrees with the UNWTO's Global Code of Ethics for Tourism
2) Protection of Children – The ATTA believes in the protection of children from harmful effects of tourism and is a signatory of TheCode.org
3) Responsibility – The ATTA believes in the universal standards put forth by the Global Sustainable Tourism Council (GSTC), and that tourism businesses and destinations should adopt the criteria specifically in these four areas:
Demonstrating effective sustainable management
Maximizing social and economic benefits to the local community and minimizing negative impacts
Maximizing benefits to cultural heritage and minimizing negative impacts
Maximizing benefits to the environment and minimizing negative impacts
4) Community Principles established by the ATTA and its active Members — when working under the auspices as aforementioned — "…will treat each other and travelers with respect and professionalism and conduct business with safety, honesty and integrity. As a community, we will seek to improve our own organization's compliance with the points noted above. As a community, we will wherever possible seek to assist other organizations and professionals within the association to achieve success, both in the pursuit of the values noted above and in business."
When reviewing the Values, Secretary-General of the UNWTO Mr. Taleb Rifai said, "UNWTO welcomes the ATTA Values Statement and encourages all ATTA members to promote and implement these principles in their activities as a means to build a more responsible tourism sector. UNWTO is particularly pleased to see that ATTA has incorporated the principles of the UNWTO Global Code of Ethics for Tourism approved by the UN General Assembly in 2001 in its Values Statement and commends ATTA's vision for the future of tourism."
The ATTA has translated these Values into Spanish, Portuguese, Arabic and Mandarin Chinese with German and French versions impending. Once members sign the Values they are encouraged to share these Values that they hold as part of the ATTA community with their travelers and clients.
Access a complete version of ATTA Values Statement PDF:
[English] [Spanish] [Portuguese] [Chinese] [Arabic]
About Adventure Travel Trade Association
Established in 1990, the Seattle-based Adventure Travel Trade Association, serving more than 800 members worldwide, serves as the hub for tour operators, tourism boards, media, specialty agents, adventure accommodations and industry partners with a vested interest in the sustainable development of adventure tourism. Host of the annual Adventure Travel World Summit trade conferences, the ATTA is dedicated to unifying, networking, professionalizing, promoting and responsibly growing the adventure travel market. The ATTA also publishes www.AdventureTravelNews.com, the adventure tourism community's news source and makes possible www.Adventure.Travel, the traveler's guide for trusted tour operators from around the globe specializing in physical, cultural and nature-based adventures.