The way forward in the face of climate change is constantly evolving – but taking the first step is critical.
This article and research developed with contributions from Nicole Cocolas, Climate Communications Program Manager.
This week, leaders from around the world are meeting in Madrid, Spain, at the United Nations Climate Change Conference (COP-25). The purpose of the meeting is to sort out how to implement the goals of the Paris Agreement, a treaty signed in 2016 by 195 countries with the aim of limiting the earth's warming to less than 2 degrees. Discussions taking place 2-13 December will set rules for international carbon markets and financing for carbon mitigation and adaptation measures that will need to be implemented in the next 10 years. As an active contributor to climate change, the tourism industry will not only be affected by the outcome of this conference but must also recognize its role as an agent of change for the better.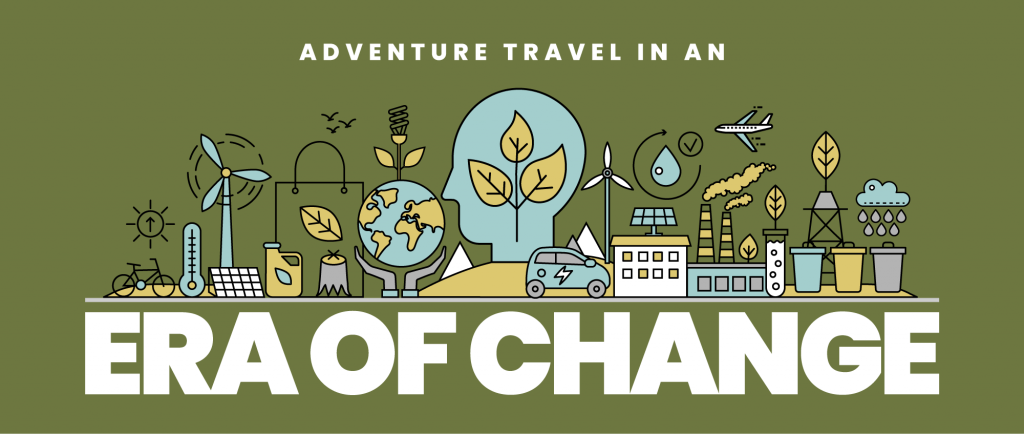 The way we see it at the Adventure Travel Trade Association (ATTA), climate change (along with developments like overtourism) is highlighting key structural problems with tourism in general. Perhaps the global urgency of climate change will provide the necessary incentive to evolve tourism and other industries in meaningful ways. Tourism businesses and destinations have figured out how to extract value from natural and cultural assets they do not own, but they are only recently contemplating how to account for the cost to those assets (for more on this see Destinations at Risk: The Invisible Burden of Tourism), and how to reinvest in those assets. This reinvestment is at the core of what it means to be a sustainable business.
Beyond the concept of sustainability from a business perspective there is also the matter of how people consume travel experiences. As Gavin Anderson of Nomadic Skies commented in an industry webinar discussing the ATTA's bulk purchase carbon offsetting program Neutral Together, on 4 December, 2019, "I also think there is a wider narrative that we need to promote as an industry, which is about people travelling less — but longer, slower, and more meaningfully." Jorge Perez of Ecuador's Tierra del Volcan also voiced the desire for a deeper narrative around travel at the Climate Action Leadership Studio in September 2019, when he said, "If we focus our efforts only on fighting climate change, we are not fighting the root of the problem, we are missing the big picture, which is that climate change is a social problem with environmental consequences, based on an economic model that takes for granted the value of nature. We need to reduce our emissions, yes, but overall we need to be looking more deeply at our relationship as humans with the earth and how we interact with our environment."
What is the ATTA's Approach to Sustainability and Climate?
The ATTA believes that our goal as an industry should be to deliver sustainable tourism, defined as net positive. This means basing tourism on profitable business models that provide economic rationale for protecting and enhancing the natural environment, wildlife, and our shared global cultural heritage. It also means being human-focused and in balance — oriented around the well-being of host communities, entrepreneurs and, of course, travelers themselves, in harmony with the environment. The ATTA's mission is to empower a global travel community to deliver experiences that protect natural and cultural capital while creating shared economic value. To accomplish that mission, synthesizing our commitment to sustainability is crucial.
"I also think there is a wider narrative that we need to promote as an industry, which is about people traveling less — but longer, slower, and more meaningfully." – Gavin Anderson of Nomadic Skies
The carbon intensity of travel is only one of many components of the sustainability overhaul needed in tourism. Other areas in need of evolution include environmental cost accounting, single use plastics, waste management (including food waste), and broader application of best practices for working with communities and wildlife, to name just a few. As the adventure travel industry expands, enticing more experience providers and many more travelers, a consistent understanding of sustainability — one grasped by both travelers and providers — is necessary. The ATTA has traditionally championed leaders in sustainability, sharing and promoting best practices through educational and event content, and will continue to do so. In 2019 we introduced DestinationSMART, a two day interactive program offered through AdventureEDU that brings together local industry- and destination-level decision makers to work through the mapping of tourism development-related risks and opportunities, and to explore smart destination-management tactics to help ensure the healthy future of a destination. In addition, our sustainability partnership with Airbnb, which includes research and education for adventure experience providers and their guests, marks another step toward sustainability for the wider industry.
A Closer Look at Carbon
With respect to carbon footprint, there are many aspects of an adventure tourism experience that rely on fossil fuels — from transportation (this includes flying and ground transportation in many forms) to meals, to energy used in providing accommodations, to products that might be purchased while traveling. As an industry, tourism accounts for 8% of total carbon dioxide emissions.
Recognizing this, the next step is to analyze the various components of tourism and prioritize areas for significant reform. While transport is but one of these components, it is one of the most salient and easily grasped, and leaps out as an obvious opportunity. The charts below, prepared by the World Resources Institute, show how transport (including air travel) aligns with other industrial sectors. They provide a useful reference for businesses grappling with the array of news articles related to flying.
Energy accounts for 72% of total emissions and within that 72%, transportation makes up 15%. Not shown in the WRI chart below is the estimate that air travel makes up 2% of the Transportation category (IATA, 2018).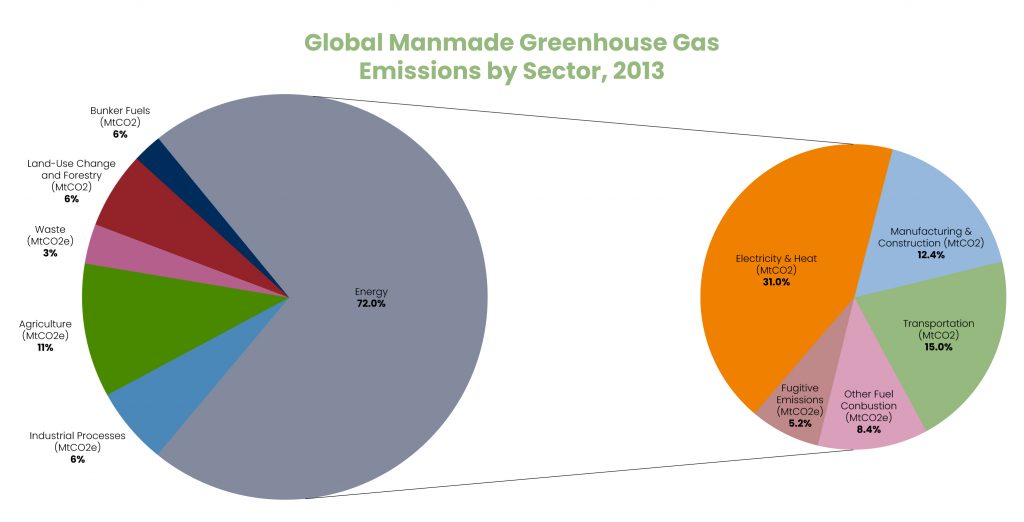 Conscientious consumers are making their deepening sensitivity to the climate impact of air travel more directly felt. In some markets, travelers are making choices that will have significant implications for destinations and businesses dependent on long-haul travel. Efforts by tour operators to focus on regional and local traveler markets, and to restructure trips to use fewer flights and stay in a destination longer, are helpful. Programs and policies initiated by countries and destinations to support local markets in reaching carbon neutral goals are extremely valuable and necessary.
Confoundingly, travel businesses find themselves on both sides of the climate change problem at once: suffering from it, and at the same time contributing significantly to it. The table below highlights a few elements of the conflict.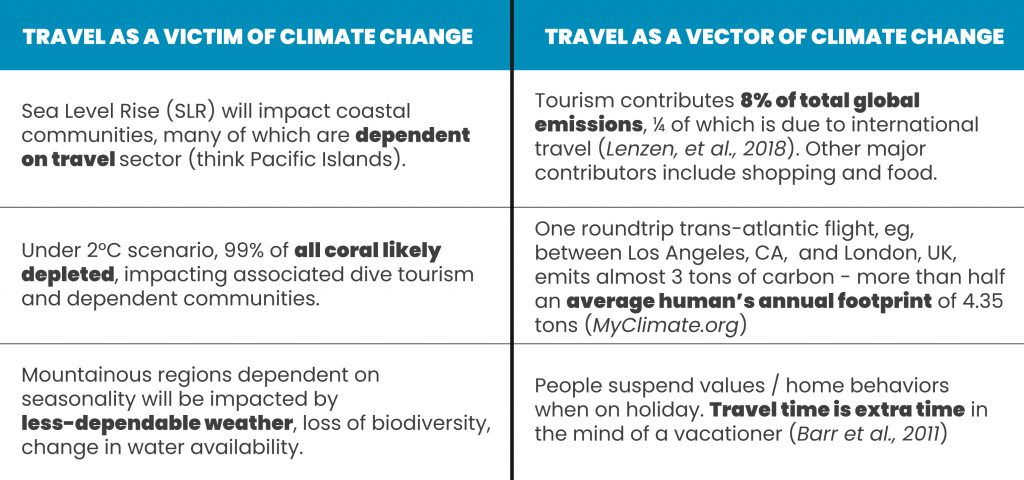 Many in the industry feel an urgent need for action and reform, yet it can be challenging to filter fact from opinion. Not to mention that human industry has never faced a challenge like this one before and there are few examples to turn to for guidance. As noted in a research report supported by the Swedish Energy Agency, "the mitigation pathway for 1.5 degrees C or even 2 degrees C is so steep that there is essentially no historical precedent for the corresponding transformation of the global economy."
In this period marked by anxiety, urgency, and uncertainty, the ATTA is taking action to support a transformation in travel and mobilize meaningful emissions reduction. In addition to supporting businesses and travelers in transforming how they deliver and experience travel through education and event programming, the ATTA recognizes it can also help organize and activate the grassroots adventure travel business community for carbon offsetting and removal. Carbon offsetting is a way of compensating for emissions by paying for emissions reductions elsewhere or by funding another carbon-offsetting measure, such as planting trees or supporting renewable energy projects, or providing energy efficient cookstoves to communities that need tem. Carbon removal is a term that describes processes that result in carbon being taken out of the atmosphere and put into permanent storage. To achieve global climate goals, we must push on many levers at once — changing how we operate to emit less and less as well as cleaning up the carbon that is already in the atmosphere.
In 2020, the ATTA will provide education and training to support organizational transformation as well as options for companies who want to offset but can't afford it, or who want to remove carbon permanently but don't have direct access to do so. With respect to offsetting and removal, two new services will be available: Neutral Together, a bulk purchase carbon offset program for ATTA members delivered in partnership with South Pole; and Tomorrow's Air, a collective for removing carbon dioxide through direct air capture delivered in partnership with Climeworks. Alongside these two services, the ATTA is creating a Climate Action Leadership Community on LinkedIn to bring climate-focused travel business leaders together to post discussion questions, ask for advice, or share relevant new research, policies, projects, and news. Community members will be able to join with a Commitment to Action, which offers a roadmap of structured goals for changing operational practices, re-evaluating food and material supply chains, providing traveler education and addressing emissions. Through these initiatives, the ATTA is fostering climate action within the adventure travel community.
At our core, the ATTA's values include a responsibility to minimize negative impacts and maximize positive benefits to the environment in our own business operations and in the operations of businesses we support. We recognize both the need to account for our own organizational impacts and the opportunity to lead through example — and we will continue to create new structures that allow more people to participate in best practices.
As we have all learned so many times in our own journeys as adventure travelers, sometimes the hardest but most essential thing is to take the first step — and learn as we go.