ATTA President to Address Outdoor Industry on Adventure Traveler Trends Aug. 6th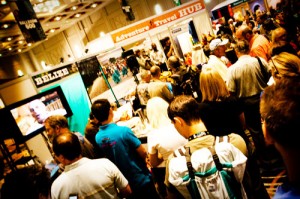 (SEATTLE) – July 13, 2011 – Presented by the Adventure Travel Trade Association (ATTA), the Adventure Travel Hub in the Outdoor Retailer Summer Market (ORSM) Ballroom will again serve as the meeting place for creative marketers of outdoor gear and apparel brands seeking innovative partnerships and progressive consumer outreach opportunities to access the $89+ billion adventure tourism industry where travelers spend $53 billion annually for related gear, apparel and accessories*.
ATTA's Adventure Travel Hub returns to at the Salt Palace Convention Center in Salt Lake City, Utah, August 4-7, 2011, where adventure tourism destinations Bosnia-Herzegovina and Mexico will be showcased for the first time, along with returning, world-renowned adventure destinations Norway and Belize.
Centered in the Ballroom (BR527) in 800 sq. ft., the ATTA will build upon its 2010 launch of the Adventure Travel Hub. Within the Adventure Travel Hub, retailers, manufacturers and tourism representatives will gather during the 2011 ORSM to craft relationships and collaborate to expanding adventure tourism market in new and creative ways.
Tourism boards will continue to build on last year's connections and work with leading retailers and brands to maximize their appeal to the adventure traveler and outdoor enthusiast. New, joint consumer outreach initiatives, digital film, photo and social media projects, and co-branded marketing collateral development, are just a few of the results that have already emerged from the 2010 inaugural ATTA Hub at ORSM.
New outdoor-adventure industry partnerships for 2011 will greet show goers. Showcase adventure destinations for 2011 already are working with outdoor brands in their booth to host evening "Happy Hour" adventure-outdoor events:
Aug. 4th – Norway / Hummingbird (Cascade Designs) – 5:00PM / Booth 18027
Aug. 5th – Bosnia-Herzegovina / Eagle Creek – 5:00PM / Booth 26026
Aug. 6th – Belize / ExOfficio – 5:00PM / Booth 12027
Newcomer Mexico will be active in other events during ORSM. ORSM attendees also can register to win adventure travel journeys to Belize, Bosnia-Herzgovina, Fjord Norway and Mexico, sponsored by the tourism boards of the respective destinations.
For the ATTA and its tourism board-sponsored special events and giveaways, OR veteran Liz Ferrin, formerly from Teva, is coordinating much of the activity. In preparation for ORSM, Ferrin joins the ATTA team, which represents more than 40 years in the outdoor industry with backgrounds at REI, The Conservation Alliance, Eddie Bauer, Altrec, American Hiking Society, Eagle Creek, ExOfficio and the American Alpine Club.
Retailers and Exhibitors interested in meeting with ATTA or its destination partners are encouraged to schedule in advance with Nicole Petrak: [email protected] or 360.805.3131.
In related news, ATTA President Mr. Shannon Stowell will address the outdoor industry on Saturday, August 6 between 8:00-9:00AM. Stowell will present, "Adventure Tourism Consumer Interest Intensifies", conveying how adventure tourism growth worldwide, fueled by heightened media and sustainability interests, assures continued market expansion, accompanied by legions of new travelers with pent up demand for outdoor and travel gear and apparel brands.
Established in 1990, the Seattle-based Adventure Travel Trade Association, serving nearly 800 members worldwide, is the adventure tourism industry's trade hub. Host of the annual Adventure Travel World Summit executive trade conferences, the ATTA, a member of The Conservation Alliance, is dedicated to unifying, networking, professionalizing, promoting and responsibly growing the adventure travel market, also publishes AdventureTravelNews.com the adventure trade's news source and makes possible Adventure.Travel, the traveler's hub of physical, cultural and nature-based adventure travel and guide to trusted tour operators from around the globe.
*Editor's Note: According to the 2009-2010 benchmark Adventure Tourism Market Report consumer study by The George Washington University (GWU) in partnership with the Adventure Travel Trade Association (ATTA) and Xola Consulting.