Eco-traveller app Adventure Junky today announced its '50 Peak experiences of 2019.' Curated by Adventure Junky co-founders Nigel Malone and Fuchsia Sims, the list is their take on the coolest, greenest travel experiences on the planet.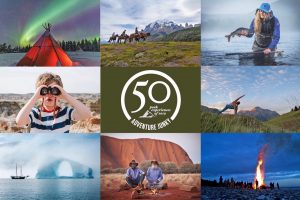 From stand up paddleboarding the Amazon, digging for dinosaurs in Alberta, silent whale watching under the northern lights, to the world's southernmost trek in Tierra del Fuego, Adventure Junky's '50 Peak experiences of 2019' will make even the most seasoned traveller rethink their next adventure.
The '50 Peak' list is also acknowledgment and praise for those featured Operators and Destinations leading the way in sustainable travel. Each one has put care for the environment and communities they operate in at the forefront of their thinking and actions – be it conserving habitat to eliminating single-use plastic to offering 100% carbon neutral travel.
"Our '50 Peak' represent the future of travel and tourism – a snapshot of an industry that works not only to enhance the traveller's personal wellbeing, but equally that of the people and places they visit. We encourage all travellers to get behind the operators and destinations you see in our 'Peak 50' and put them first in your travel choices," said Fuchsia Claire Sims, Co-Founder of Adventure Junky
In branding the 'Peak 50', the Junkys took a leaf out of influential psychologist Abraham Maslow's book. He originated the term 'Peak Experience' in 1964, defining it as 'a rare, exciting, elevating, even magical or mystical experience.'
Adventure Junky will be running a series of competitions throughout the year giving travelers a chance to win a 'Peak 50' experience, simply by bucketlisting it on the Adventure Junky App. Full competition details will be released in February, but travellers can start now by downloading the App and bucketlisting adventures by tapping the 'Bucket' icon on the adventure.
For a visual snapshot of the '50 Peak experiences of 2019' visit here.
For the full '50 Peak experiences of 2019' download the Adventure Junky App.
Download a pdf written list of the '50 Peak experiences of 2019.'
Contributing members are responsible for the accuracy of content contributed to the Member News section of AdventureTravelNews.