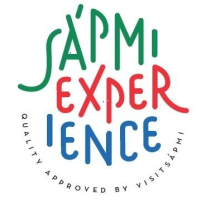 Now VisitSápmi launch the Sámi tourism quality label Sápmi Experience. It is exclusively for Sámi tourism and trade providers. Quality means Sami-knowhow, and responsible and sustainable practices.
But, what would a Sápmi Experience be unless we also can bring joy pleasure and excitement?  So this we also demand of our applicants.
Our first batch of approved companies:
·        Renbiten will guide you over the Dalafjäll mountains.
·        Hävvi i Glen offer sport fishing and traditional Sámi dishes on recipes used for generations.
·        Njarka Sameläger lets you experience the reindeer and the Sámi people history.
·        Laponia FlyFishing exclusive fly fishing in the Sámi World Heritage Laponia.
·        Ájtte – Svenskt Fjäll och Samemuseum is the Sámi museum. In Jokkmokk on the polar circle.
·        Fjällhästen offer horseback riding in the land of Gran Sámi Village. Knowledge of the land, the people and horsemanship combined.
Follow us closely for the cream of Sámi companies are now applying for Sápmi Experience. We are also hearing from neighboring Norway in particular that they are interested in joining forces with us at Swedish VisitSápmi. Russia and Finland are also out there letting us know they want in.
For more Sápmi Experience information:  http://www.visitsapmi.com/en/Articles/Sapmi-Experience/Adventure-begins-with-Sapmi-Experience/
Help spread the word! Thanks, and don't hesitate to contact us:
Lennart Pittja, VisitSápmi        Dan Jonasson, VisitSápmi        Jerker Bexelius, Gaaltije/VisitSápmi
E-mail: [email protected]        E-mail: [email protected]            E-mail: [email protected]
Phone: 070  688 15 77              Phone: 070 346 56 06               Phone: 070-6060862
Our new web: www.visitsapmi.com

VisitSápmi is owned by the Swedish Sámi Association. Together with Gaaltije South Sámi Information Centre Sápmi Experience is launched to promote responsible and sustainable Sámi tourism.
Websites only in Swedish: www.sapmi.se and Gaaltije www.gaaltije.se .
Contributing members are responsible for the accuracy of content contributed to the Member News section of AdventureTravelNews.