75 per cent of adults aged 18-64 now plan 'have a go' active holidays. High-adrenaline sports like water skiing, white water rafting, paragliding and snowboarding have greatest appeal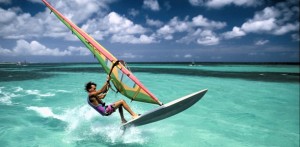 London – Far from being a nation of couch potatoes, three-quarters of adults aged between 18 and 64 want to 'have a go' at a new sport or physical activity while on holidays, according to the new Post Office® Travel Money Activity Barometer.
Rally car driving tops a list of 27 activities picked by people who want to experience a new activity on holiday.  58 per cent said they want to try it on a future holiday and this figure rose to almost two-thirds (65 per cent) of those aged 35-44. It was the top choice for 'empty nesters' as well with 38 per cent of 55-64 year olds wanting to get behind the wheel of a rally car for the first time.
The active streak revealed by the Post Office report looks likely to be a serious intention because two-thirds of the adults surveyed had already taken part in one of the 27 activities on a past holiday. Since just three per cent said they were inspired by watching a recent sporting event, it may be that the lap racing by The Stig and visiting celebrities in TV's Top Gear programme has more to do with the keen interest in rally car driving than the Formula 1 Championships.
Aside from rally car driving, the activities with greatest appeal were adventure sports rather than mainstream ones like cycling, fishing or golf, which were only picked by 27-28 per cent of people. By contrast, at least 40 per cent want to try a water-based sport.  Scuba diving (49 per cent), water skiing (47 per cent), sailing (44 per cent), white water rafting (43 per cent), canoeing (41 per cent) and surfing or kite surfing (40 per cent) all scored highly.
So did snowboarding (41 per cent) and jungle trekking (45 per cent), which were the other top ten choices. 40 per cent want to try their hand at sandboarding, the sand dune equivalent of snowboarding.
When asked how much extra they would pay to try an activity, the most the survey respondents would spend was on sky diving (£126).  For most activities the amount people would spend ranged from £48 (mountain biking) to £95 (paragliding) although the average for a rally driving experience was almost £112.
However, price checks by Post Office Travel Money in a range of overseas destinations revealed that none of the rally driving sessions researched fell within the £112 mark.  The cheapest was a six-lap Subaru Rally Experience in Melbourne at around £167 while a 10-lap Subaru Rally Experience in Paris cost over £338. The only rally car experience that came within budget was a £99 one-hour Rally Thrill with 12 minutes' driving at Silverstone.
Holidaymakers wanting to 'have a go' at the other top nine most aspirational activities would have far more locations to choose from in Europe and further afield that fell within the extra budget they have to spend (see separate report document for full price details):
Scuba diving: The £83 budget would cover a Discover Scuba Diving single-dive session in all eight destinations surveyed.  These ranged from Gozo (£36) to the Algarve (£80).
Water skiing: People would pay £64 to try water skiing and this would easily cover a beginner lesson in the Maldives (£43), Crete (£44) or Fort Lauderdale, Florida (£57).
Jungle trekking: Thailand is cheapest with a range of trekking tours costing between £15 and £48.  A rainforest trek in Costa Rica also came within the £80 budget at £70.
Sailing: Holidaymakers should expect to pay more than the £75 budget quoted for a RYA introductory course.  Post Office research found that these courses cost £266-£300 in Poros, Corfu, Sardinia and Majorca.  It would fund a half-day sail from Cape Town (£51).
White water rafting: People wanting to spend an average £68 to try rafting will have money left over in the Austrian Tirol (£40), Italian Dolomites (£43), Borneo (£54) and Banff, Canada (£58) but it could cost as much as £80 for a session in Swiss Interlaken.
Canoeing:  Those who want to try their hand at canoeing could have their pick of 10 destinations surveyed as these all fell within the £57 budget.  A day's canoeing on the River Danube near Budapest cost least – under £5.
Paragliding: At £53, tandem flights in the Algarve cost much less than the £95 people said they would spend to try this high adrenaline sport.  They could also have a go at paragliding in Tenerife for £80 but would need to find an extra £11 in Andalucia.
Snowboarding: £81 would not fund either private or group lessons in most of the winter sports destinations surveyed.  However, it would cover a two-hour lesson in either Bulgaria's Bansko (£47) or the Italian resort of Selva (£62).
Kite surfing: A one-hour private lesson in four European resorts and in Olhuveli Resort in the Maldives all fell within the £59 average that people would spend to try kite surfing.  Crete was cheapest at just over £44 but a beginner's course there would cost £400.
Paul Havenhand, Head of Travel at the Post Office said:
"Our Activity Barometer established that there is a real appetite to have a go at a surprising number of adventure sports and that many people want to have their first experience of these while on holiday when they have the time to try something they have always wanted to do. 

"However, they need to budget carefully and take sufficient foreign currency with them to cover the cost of that activity.  Our research showed that people were realistic about the cost of some sports but not about others. We also found that the cost of learning a new skill on a course, rather than as a one-off taster was much more expensive.

"It's important that holidaymakers recognise the value of taking foreign currency with them and the savings that can be made when getting cash before you go. Another cost effective, as well as safe and secure, way to carry cash is on a Prepaid Post Office Travel Money Card, available in eight currencies, including euro and US dollars

"Most people we spoke to – 77 per cent – told us they would want to be sure they were being properly guided by qualified experts and we would also urge them to check before leaving home that they have the correct travel insurance to cover all eventualities."
More than 70 currencies can be pre-ordered at over 11,500 Post Office branches or online at postoffice.co.uk for next day branch or home delivery. 25 currencies are available on demand at 1,600 larger Post Office branches, while over 4,000 branches offer US dollars and Turkish lira and 10,000 offer euros over the counter.  Higher rates are offered on transactions of over £500 and over £1,000.
Travel insurance is available at the Post Office and a range of sports and activities are covered within standard policies, while others are available at an additional premium.