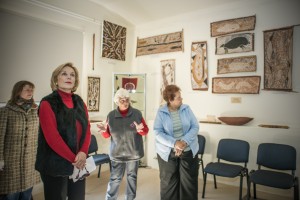 A new Aboriginal dance program for boys at The Gully was announced by Australian of the Year Ita Buttrose at the Katoomba site on Saturday, August 3.
The former magazine editor and businesswoman met with Gundungurra elders and program leaders at the site during a visit to the Blue Mountains, during which she was guest of honour at a Katoomba Theatre Company fundraising dinner and visited Scenic World, Blue Mountains Cultural Centre and The Paragon.
She said she "applauded" the partnership between the Gundungurra community of The Gully, Blue Mountains Lithgow & Oberon Tourism (BMLOT) and Katoomba Theatre Company (KTC) in bringing traditional Aboriginal dance classes for indigenous and non-indigenous youth to Katoomba.
"It is hoped that from this, local Aboriginal boys will be proud to preserve and share their culture and, for those that show passion and talent, study and new employment opportunities will arise."
"Partners such as Katoomba Theatre Company will help this dance program foster confidence and prosperity for indigenous youth in the Blue Mountains."
Ms. Buttrose said the program would be a good example for Aboriginal communities in other areas and encouraged them to follow suit.
"We all benefit" from young people being education about indigenous culture.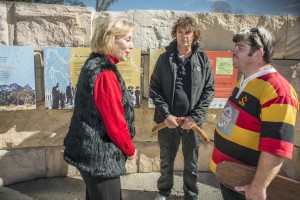 Gundungurra Aboriginal Heritage Association elder Aunty Sharyn Halls, who hosted the meeting and welcomed Ms Buttrose with Aunty Merle Williams, said the program had been several years in the planning.
"It's about Aboriginal boys having somewhere to hang out and feel they can have someone to talk to. It's a great idea."
Aunty Sharyn outlined the history of The Gully to Ms Buttrose, after which Gundungurra traditional dance program for boys visionary Den Barber and Aboriginal toolmaker Lex Dadd explained the program.
They presented Aunty Sharyn with an artwork and Ms Buttrose with a pair of clapsticks.
The program, which will run on Friday afternoons, will involve a smoking ceremony, tool and jewellery-making and dancing as well as afternoon tea and contact with elders.
The experience would hopefully also foster maturity, respect and confidence in the young people, Mr Barber said.
The boys program will be supported by Blue Mountains Lithgow & Oberon Tourism which will cover the cost of insurances needed at the site.
BMLOT chairman Randall Walker said BMLOT was "delighted to provide assistance to this important initiative as an extension of our indigenous tourism development program".
"What Den and Lex have planned for The Gully will lead to real employment opportunities for talented local Aboriginal dancers."
BMLOT will give practical help in the form of insurance, travel costs and promotion "but more importantly we will provide performance opportunities along with Katoomba Theatre Company".
"There are also career opportunities through the Indigenous Guiding Course at TAFE Wentworth Falls and Farid Nayer the owner of Waradah Aboriginal Centre at Echo Point has generously offered performance and paid work opportunities for talented dancers."
Katoomba Theatre Company co-founder Dr Larry Buttrose said KTC was "delighted" to also support the program.
The Gully is a joint project between The Gully traditional owners and Blue Mountains City Council and funded by NSW Sustainability as part of the Reconnecting to Country project, The Gully Aboriginal Interpretive Walk in Katoomba was officially opened by NSW Governor Marie Bashir AC CVO on February 23.
Contributing members are responsible for the accuracy of content contributed to the Member News section of AdventureTravelNews.