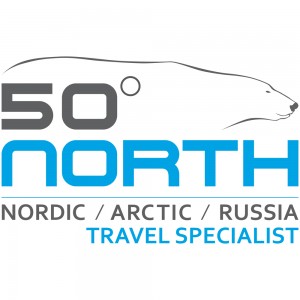 Interested in the Northern Lights, Hiking in Greenland, Kamchatka? Well, read on.
50 Degrees North is a niche, independently owned, specialist travel company. We exclusively specialize on the regions beyond the 50th parallel north; Scandinavia, Iceland, Greenland, Finland, the Baltic States, Russia, Mongolia, Kamchatka, Canadian Arctic and the Arctic.  Our founder, Tietse Stelma, is Norwegian with over 20 years experience with experiential travel worldwide, and with a strong affiliation and personal affection for the high northern region.
50 Degrees North is a destination specialist that aims to give our travellers a little more than just a holiday. We specialize regionally, as we believe it is not possible to be good at everything. We also focus on offering the most enriching style of travel. Not necessarily cheap, but rewarding, full of real life experiences and with incredible value for money. Our wide range of holidays ensures there is something for everyone; from comfortable tours and voyages; to treks and remote expeditions. Our knowledge and expertise will allow adventurers to get deep under the skin of the northern region, and take home with them learning and understanding that others will miss.
OUR TEAM:
At our head office in Australia, we have a multilingual team that is very passionate about 'our' part of the world. We speak Norwegian, Swedish, Finnish, Dutch and German and the majority of us are based here in Australia for love, of our adopted country and our partners.
Knowing the local lingo is very helpful when it comes to building strong relationships with our partners in the northern region, and this ensures that we can offer you the most interesting activities with the very best partners. We plan our itineraries carefully, based on first hand experience, and we continue to improve and perfect our itineraries based on our team members' ongoing travel experiences.
ENVIRONMENT & SUSTAINABILITY
Environmentally friendly and sustainable tourism is at the forefront of the 50 Degrees North philosophy. The area north of 50th parallel comprises some of the last true wilderness on Earth. We like to call it the 'last frontier' where sustainable tourism infrastructure in some places is still incomplete. In these areas our aim is to support our local partners in their already substantial efforts to decrease their environmental footprint and become more sustainable in their practices.
SAFETY
We are doing our utmost to ensure the highest safety standards are met on all our tours. With over 20 years experience in the industry we have chosen only the best local operators who have an excellent safety record. Good preparation is one of the keys to a safe and enjoyable travel and this is our priority.
50 Degrees North is excited to be a part of the Adventure Travel Community and we are looking forward to connect with various adventure travel companies and travellers worldwide, develop partnerships and explore marketing opportunities. We are passionate about bringing our world to you – the adventure opportunities in our region are endless.
Connect with 50 Degrees North on ATTA's member online community The HUB