In 2017 the Tradition Continues with Kudos and Special Savings

Tofino Expeditions, leading purveyors of sea kayak- supported explorations of Earth's marvels, is spot on when selecting award-winning locales to awe their guests who prefer the serenity and special access that water offers when discovering new worlds.
It was in 1992 when Tofino Expeditions blazed new trails and began offering wilderness tours in and around Gwaii Haanas National Park Reserve and Haida Heritage Site, often referred to as "Canada's Galapagos" due to the archipelago's unique ecology. In 2016 this park and reserve located on the southern end of the Haida Gwaii Archipelago was selected as one of three finalists for a 2017 National Geographic World Legacy Award in the category "Sense of Place." The majesty of totem poles grouped along the shoreline of an ancient village is but one of the unique experiences awaiting inquisitive visitors.
"We're thrilled that these very special islands are garnering such international acclaim," said Grant Thompson, Founder and Owner of Tofino Expeditions. "The vacation combination we offer here is unbeatable: a time-capsule look at an ancient culture through the lens of abandoned Haida villages with hot springs, the flora and fauna typical of a Pacific Coast virgin rainforest and some of the continent's finest sea kayaking."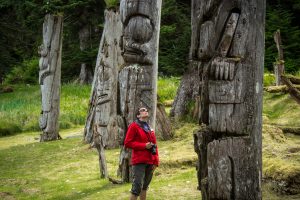 Tofino Expeditions' eight-day Haida Gwaii Kayaking Tours conducted in July and August 2017 engage paddlers of all ability levels on coastal waters surrounding some 150 islands located 80 miles off British Columbia's northwest coast. Paddlers land on the same beaches that the Haida, an indigenous people, once accessed when pulling cedar canoes ashore. These ancient people were seafarers who lived in harmony with nature leaving behind timeless artifacts depicting lineage and lore.
Guests explore the Islands in modern comfort and style utilizing two-person tandem expedition kayaks. These craft are 25 percent faster than single kayaks while providing additional stability that eliminates the need to wear cold water immersion gear while paddling. Each day guides surprise and delight guests with freshly prepared meals reflecting Tofino Expeditions' reputation for high quality ingredients and campfire cooking expertise. This wildness trip uses the finest camping equipment available including Mountain Hardwear four seasons mountaineering tents. Two guests share a tent designed for three persons allowing extra elbow room. Guests arrive and depart through Sandspit airport (YZP) on the northeast tip of Moresby Island.
Haida Gwaii Haanas National Park Reserve (Gwaii Haanas means "Place of Wonder") was founded to protect the natural and cultural integrity of the remote southern portion of the archipelago. Formerly known as the Queen Charlotte Islands, National Geographic rated Gwaii Haanas National Park as the top park destination in North America; Outside Magazine Travel Awards rated Haida Gwaii as "Best Islands" and UNESCO has declared the village of Skung Gwaii with its intact totem poles, a World Heritage Site.
In addition to an intact cultural heritage, the region is rife with sea lions lounging on rocky haul-outs; gulls, petrels and tufted puffins perching on cliffs; humpback and orca whales gliding through channels and straits; and tidal shallows scattered with a tapestry of brightly colored sea stars. Burnaby Narrows is considered the richest inter-tidal life zone on the planet. Indigenous land animals unique to this region are the dusky shrew, pine marten and the Haida Gwaii black bear that thrives on salmon and crustaceans.
Contributing members are responsible for the accuracy of content contributed to the Member News section of AdventureTravelNews.