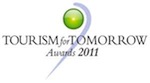 The 2011 Winners have been announced on 17 May 2011. during the 11th Global Travel & Tourism Summit in Las Vegas, USA.
Global Tourism Business. Representing international companies with at least 500 employees, entrants' achievements marry corporate success with sustainable principles and practices. The winner is:
Intrepid Travel in Australia won the Global Tourism Business Award for having demonstrated best practices in sustainable tourism at a large company level. Intrepid Travel is a group experiential tour operator that takes approximately 100,000 travellers to 130 countries each year. In addition to fair trade sourcing of their supply chain and environmentally-friendly practices such as measuring, reducing and auditing their carbon emissions at 30 global offices, the non-profit Intrepid Foundation also actively supports health care, education, human rights, child welfare, and sustainable development in the areas Intrepid Travel visits.
Conservation. Entrants have made a tangible contribution to the preservation of nature, including the protection of wildlife, expanding and restoring natural habitat, and supporting biodiversity conservation. The winner is:
Singita Pamushana in Zimbabwe won the Conservation Award for its successful partnership with the local Malilangwe Trust in helping rehabilitate and protect 122,789 acres of degraded wildlife habitat that had suffered from years of poaching. Today, the Malilangwe Wildlife Reserve includes 38 different habitats that are home to four percent of all bird species in the world, along with rare and endangered animals including black rhino, white rhino, Lichtensteins hartebeest and African wild dogs, among other wildlife. The lodge and the Trust employ over 200 staff, almost all local Zimbabweans, while providing drinkable, clean borehole water and a nutritional outreach programme to more than 10,000 villagers in the area.
Community Benefit. Entrants directly benefit local people, supporting community development and enhancing cultural heritage. The winner is:
Guludo Beach Lodge in Mozambique won the Community Benefit Award for having demonstrated direct and tangible benefits to local people, a strong contribution to community development and enhancement of cultural heritage in the area. Situated in the Quirimbas National Park, Northern Mozambique, Guludo Beach Lodge opened in 2006 in one of Mozambique's most deprived areas. Through its non-profit charity, Nema Foundation, Guludo works with 16 local communities to implement grassroots projects based on the UN Millennium Development Goals, including malaria eradication, clean drinking water, primary healthcare and rural agriculture production.
Destination Stewardship. Entrants have successfully managed a sustainable tourism programme at the destination level, incorporating social, cultural, environmental, and economic benefits as well as multi-stakeholder engagement. The winner is:
Alpine Pearls, a non-profit organisation headquartered in Austria won the Destination Stewardship Award, having successfully demonstrated sustainable tourism management at a regional destination level. To ease heavy traffic congestion in one of Europe's most popular tourism areas – the Alpine communities of Italy, Germany, Switzerland, Austria, Slovenia and France – the 24 member Pearls network has developed an innovative approach to providing sustainable transport between villages, including solar powered electric vehicles, low carbon public transport and free use of bicycles for tourists who leave their cars behind. The network also embraces and promotes Alpine folklore, culture and cuisine. By moving guests around its resorts sustainably, Alpine Pearls is successfully addressing one of the most challenging environmental conundrums faced by travel professionals worldwide.