(SEATTLE) – OCTOBER 29, 2009 – The Adventure Travel Trade Association (ATTA) announced its selection of Scotland as the host destination of the seventh Adventure Travel World Summit (ATWS), the annual global assembly of adventure tourism executives, in 2010, which is scheduled for October 4-7.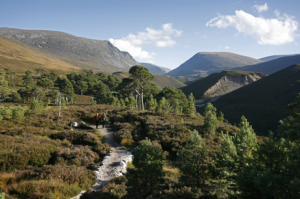 During last week's 2009 Adventure Travel World Summit in Québec, Canada, attended by more than 500 delegates representing nearly 50 countries, the ATTA announced its selection of Scotland. The ATTA decided on Scotland after a lengthy and detailed review, including several presentations and site visits, of destinations worldwide. Salta, Argentina, was the first runner-up in the bidding process.
"Hosting this summit is an excellent opportunity for both Scotland and the Adventure Travel Trade Association to highlight the many options for adventure travel, business and recreation in Scotland," said Minister for Tourism Jim Mather. "It is vital that we continue to look at new and innovative ways of attracting new visitors to our great country through initiatives such as this, ensuring that Scotland continues to be one of the 'must visit' destinations in the world that is open for business all year round."
Scotland's successful bid hinged upon many factors, most importantly for VisitScotland's enthusiasm, planning and strategic vision, for a supportive government at the highest levels, for the country's commitment to sustainable lifestyles, for its world-class adventure travel resources, and its early and active engagement of regional partners to strengthen European involvement in the event. VisitScotland also secured the support of Scotland's First Minister Alex Salmond, rallied several major country tourism boards to support the trade conference, and partnered with event venue, transportation and accommodation partners to ensure a high value, cost-effective event for delegates worldwide.
"With such incredible destinations stepping up to host our the adventure travel community's annual gatherings, the Summit site decision-making process has become more and more challenging," said ATTA President Shannon Stowell. "Scotland's inventive approaches, understanding of the ATTA's short- and long-term vision, and its commitment to our mutual success gave this emerging adventure travel destination the edge."
The ATTA's Summit conferences engage, enlighten, inspire, and energize the leaders of the adventure travel community with executive-level networking, business and professional development programs, educational seminars and emerging adventure destination product review opportunities. Among the special offerings slated for 2010, the ATTA will feature new "Transformative Thinking" plenary sessions, enhanced special programs dedicated to connect delegates with high quality journalists, and "Key Market Forces" and "Tactics for Today" sessions designed to help adventure travel organizations turn operational, marketing, partnership and prospect challenges and opportunities into results-oriented endeavors.
With its ATWS events, the ATTA and its Summit delegates, primarily tour operators, destination marketing organizations, tourism boards, media, agents, adventure lodges, and service organizations (e.g., transportation, technology, marketing, etc.), influence the manner in which adventure travel is introduced, executed and sustained in any given destination worldwide. These adventure travel organizations collaborate to encourage the industry to adopt sustainability and best practices that give back to the people and places impacted by adventure travel.
Host destination of the 2010 Adventure Travel World Summit is Scotland. Registration is accessible at www.adventuretravelworldsummit.com.
Established in 1990, the Seattle-based ATTA (www.adventuretravel.biz) is a privately held, global membership organization dedicated to unifying, networking, professionalizing, promoting and responsibly growing the adventure travel market. Host of the annual Adventure Travel World Summit executive trade conferences (www.adventuretravelworldsummit.com), the ATTA also makes possible www.Adventure.Travel, the traveler's hub of physical, cultural and nature-based adventure travel and guide to trusted tour operators from around the globe.